Tips from Law Enforcement to Keep the Real-Life Grinches Away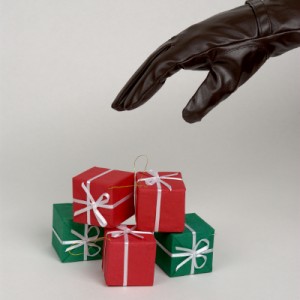 Ah, it's that most wonderful time of the year again. Chestnuts roasting on an open fire. Jack Frost nipping at your nose. Bad guys waiting for you to let your guard down so they can ruin your plans for a festive season.
With the holidays right around the corner, we reached out to local Massachusetts police departments to ask what you can do to protect your packages as well as your homes from those real-life greedy grinches.
Chief Joseph O'Connor of the Concord Police Department (@ConcordMAPD) reminds you to be cautious with online deliveries.
"We know that many residents are often not home during the day to receive their packages, leaving them at risk of being taken," says O'Connor. "Coordinate an arrangement where your deliveries can be sent to a secure location so you don't lose precious items to theft."
O'Connor says to ensure your packages aren't stolen, you should:
Request a signature on your deliveries, especially the most valuable ones, so they're not left unattended. You can also give specific instructions to the delivery services on where to leave packages so they're not visible to people passing by.
Sign up for email alerts that will notify you when your deliveries are scheduled to arrive.
Select an alternative destination–either at work or the home of a family member, friend, or neighbor–where someone will be home to receive the delivery if you won't be available.
Redirect packages, even if they're already on their way. Send them to your closest FedEx or UPS office, or another secure location.
Set up a vacation hold if you'll be away during the holidays so gifts will not be delivered to an empty house.
"If you arrive home to find your package has been stolen, immediately report it to police," O'Connor says. "However, if the item was not insured, the chances of receiving it back are slim."
Sgt. William Gallant, the Waltham Police Department's (@WalthamMAPolice) Community Services Supervisor, agrees that if you're not going to be home to receive a package delivery, you should arrange to have it delivered to another location such as a neighbor's house or your place of employment.
If you don't have any other alternative, you could also instruct the delivery company to leave the package somewhere out of sight such as in the backyard, or on a side porch.
The good news, though, is that there isn't an increase in the number of home break-ins this time of the year, Gallant says.
"As long as you lock your doors and take normal precautions, you won't have any problem–at least no more than normal," he says.
However, you should ensure that you lock your vehicles, according to Gallant.
"That's where we see a lot of breaks," he says. "That's because people leave things in their cars or they have presents in the trunks because they're hiding them from their kids but they leave their cars unlocked. Then somebody can just easily open up the trunk from the inside of the car."
The best advice Lt. Glen Mills of the Burlington Police Department (@burlingtonpd) says he can give is to take advantage of the tracking and delivery options available from the major shipping companies. More and more carriers are offering package tracking and this is a good thing so you will know when something might be missing.
"If you can, make sure you or someone is home when a delivery is coming–that's the best defense," Mills says. Like O'Connor, Mills says if you can't be home, you should have the package delivered to a place where either you or a friend or relative can receive it. Some services allow you to change the delivery destination before a package arrives.
"If you have the option of requiring a signature so that packages won't be delivered, use that option," he adds.
Some of the delivery companies will hold your packages until you can go to a location to pick them up. While this is not as convenient as having them left on your door, it is better than having your packages stolen, Mills says.
"Some apartment complexes and home owners have installed large locking delivery boxes on their property to secure packages," he notes. "If you get a lot of deliveries or manage an apartment building this is not a bad option."
In addition, Mills says you should also use the Hold Mail Service from the USPS whenever you go on vacation or to visit family on holidays.
"And finally, please, please, please report suspicious activity to your local police department," Mills said.
Many package thieves have been caught because an alert neighbor or passerby has called in a description of a thief and/or their license plate number, he says.
"The most disappointing thing for us is to get called to a crime and when conducting an investigation find out that people saw the criminal at the scene acting suspiciously but were afraid to call or discounted the feeling that something was wrong," Mills says. "When you see something that seems suspicious–always call."
Chief Fred Ryan of the Arlington Police Department (@ArlingtonMAPD) agrees that you should request the delivery of a package via a signature to ensure the package will not be left on the front steps or in foyer.
"You should also track your packages online, so you have a better idea when they're scheduled to arrive," he says. "With the United States Postal Service delivering packages seven days a week through the holidays, request that your packages arrive on a weekend day, if you plan on being home."
If you're suspicious or you have experienced this type of activity, Ryan like Mills says you should contact your local police department.
Jeremy Warnick Director of Communications for the Cambridge Police Department (@CambridgePolice) says the biggest thing to remember is to require a signature for all package deliveries.
"If you're not able to be there for a signature then you should track your package online so you have a better sense of when it will arrive so you can have a friend or family member pick it up for you," Warnick says. 'You can also request that the postal service deliver your package over the weekend–they're doing seven-day delivery through the Christmas season."
As for protecting your home, Warnick says it's no different this time of year than any other time. Home breaks are more common while people are away on vacation, and there are a lot of vacationers, particularly between Christmas and New Years, he notes.
One of the biggest issues is that people just don't lock their doors or windows, Warnick says. So people should just take that step and make sure that all doors, basement doors, back doors, are locked.
"I recently took a walk through the city of Cambridge and I noticed several air conditioning units that were still in people's windows," he says. "Those are very easy for people to push forward and jigger loose, making it an easy entry point for a thief. So people should make sure that those are secures or removed altogether as it is December."
Additionally, you should also be sure to discretely dispose of boxes and other packing material after all your presents have been opened.
"People will have all these recyclables. If you throw out a giant empty box that has a picture of a 52-inch screen TV plastered all over the outside of the box, how better for the [thieves] to know you have a brand new 52-inch TV in your house," Warnick notes. "You should properly cut that box up into smaller pieces, or put it at the bottom of the recyclables instead of the top."
It's also probably not a good idea to put your Christmas tree in front of a large picture window, place all the presents around it and leave the shades up.
"You should always take precautions and not make it inviting for a thief," Warnick says.
Following these tips and making certain that you have a home security system installed will help ensure that crime won't ruin your holidays.
From our family at American Alarm to your family: Happy Holidays.
Next Steps:
https://www.americanalarm.com/wp-content/uploads/2022/12/American-Alarm_logo_1Xr.png
0
0
American Alarm Blogging Team
https://www.americanalarm.com/wp-content/uploads/2022/12/American-Alarm_logo_1Xr.png
American Alarm Blogging Team
2015-12-15 12:47:36
2015-12-15 12:47:36
Tips from Law Enforcement to Keep the Real-Life Grinches Away