Summer is here (finally) and that means spending more time outside enjoying pool parties, outdoor barbecues, fireworks and all kinds of fun activities — it shouldn't mean treating burns, bandaging cuts, icing bruises, or trips to the emergency room.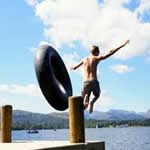 Follow our summer safety tips below to help you and your family have a fun and safe summer:
1. Don't let the heat spoil your fun in the sun.
Drink lots of water and don't work or play too hard in the hot weather. Take some breaks in the shade or inside your home.
2. Protect yourself from the sun's harmful UV rays.
Limit exposure to the sun between 10 a.m. and 4 p.m. when UV rays are most powerful. Wear sunglasses that block 100% of UV rays. Wraparound frames work best because they protect your eyes and the sensitive area around them. Wear hats with wide brims and slather on the sunscreen — SPF 15 or higher.
3. Be careful with all fireworks (if fireworks are legal in your state, of course).
Although sparklers and pinwheels look really pretty and appear to be low risk, don't be fooled. You should never allow children to play with any type of fireworks unless there's an adult present to supervise. It's just not safe.
4. Make pool safety a priority.
Secure your pool with appropriate barriers — and supervise children at all times.
5. Keep your barbecue grill at least 10 feet away from anything that can burn.
That means your car, your house, trees, bushes — anything that can catch on fire. To prevent an accidental grease fire — before you light up your grill — don't forget to clean out all that grease that's built up over time. Never use kerosene or gasoline to light a charcoal fire — those fuels can cause explosions.
6. Inspect backyard playground equipment carefully.
Be sure equipment like swing sets are anchored safely into the ground and ensure that nothing is broken or in a state of disrepair. Also check that any bolts, nails, etc., aren't sticking out.
7. Don't forget your pets.
If you head to the mall or the grocery store, leave your pet at home. Being cooped up in the car, even with the window cracked open, can prove deadly to your animals. Don't forget to leave out a lot of fresh, clean water for all your pets.
Next Steps:
https://www.americanalarm.com/wp-content/uploads/2022/12/American-Alarm_logo_1Xr.png
0
0
American Alarm Blogging Team
https://www.americanalarm.com/wp-content/uploads/2022/12/American-Alarm_logo_1Xr.png
American Alarm Blogging Team
2013-06-26 13:01:43
2013-06-26 13:01:43
Summer Safety Tips