Stay Safe When Offering Short Term Rentals
Bay State short-term rentals appear to be increasingly popular. So indicates a WBUR article, citing Airbnb's own statistics, which point to a "record year" in Massachusetts. The company claims that in Massachusetts alone, in 2018, 1.2 million people stayed in Airbnb rental sites, and hosts earned more than $256 million.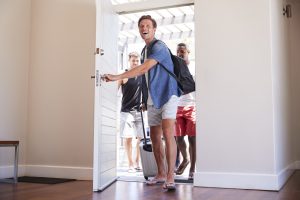 However, tenants do pose risks that can outweigh the profits. Property owners looking to cash in on vacationers staying in Boston, Cape Cod or the Berkshires (to name a few areas) can take steps to ensure their properties and possessions are protected.
When considering a rental customer, you need to be as careful as if you were renting to a long term tenant. This article details some horror stories, where guests stole items (including a birth certificate) and left behind other items, including drug paraphernalia, and even a live cat.
Let the Renter Beware
Why the worry? For starters, not every client renting a place is who he or she claims to be. For instance, according to one news article, in 2016, a teenager rented an Oakland, California, house for New Year's Eve. The teen did so by pretending to be an "older man" from Chicago.
The renter proceeded to hold a birthday bash, with hundreds of friends invited. When the renters returned, their home was the site of "dirty furniture, beer cans, cigarettes, broken glass and even blood stains." Police arrested the teen party host for vandalism.
Taking Short Term Rental Precautions
To avoid having a disaster at your property, you can take steps to protect yourself. (For instance, Airbnb offers a beginner's guide to help.) Set up some requirements in advance, such as:
Make sure you know as much as you need about your guests before they rent. Ask them questions and set expectations, and get identification from the guests.

Get identification from the guests.

Make the house rules clear up-front. That means directions on cleanliness; how to dispose of trash; what to do with towels; insisting on no smoking, etc.

Offer precise instructions on house security: locking the doors and windows, setting the alarms, and the like.

Consider installing a security surveillance and alarm system. There are a variety of choices, but the safest course is to consult proven professional security experts. You can also couple this with a security monitoring service, also run by professional experts 24/7. That way, no matter who is occupying your house, you know that you have reliable protection.

As part of your security solution, implement an automated home access system, as well. There are relatively simple cloud-based solutions available

. A hypothetical example: With such a system, the renter can email an e-pass link to a tenant, who downloads it on a smartphone. Using this pass, the tenant can unlock the door, which is equipped with a hardware reader.  When the tenant leaves, the e-pass is revoked and reused by the next tenant.

For extra protection, consider using a vendor to install environmental sensors and alarms. No matter who is in the house, any changes in temperature, moisture, smoke levels, and so on can be monitored and alerts issued.

Talk to a professional vendor (to obey the relevant state laws and to optimize placement) install security cameras at strategic areas.
Apply these tips and some security technology to help your rental experience be a safe one.
NEXT STEPS:
https://www.americanalarm.com/wp-content/uploads/2022/12/American-Alarm_logo_1Xr.png
0
0
American Alarm Blogging Team
https://www.americanalarm.com/wp-content/uploads/2022/12/American-Alarm_logo_1Xr.png
American Alarm Blogging Team
2019-06-19 16:33:45
2019-06-19 16:33:56
Stay Safe When Offering Short Term Rentals