Smoked Out—Missing, Broken Detectors Blamed For Worcester Deaths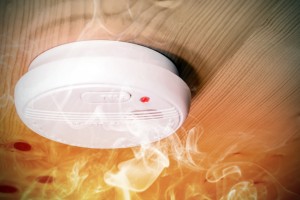 According to the National Fire Protection Association (NFPA), three out of every home fire deaths occur when smoke alarms are not present or not working properly. In Worcester, Massachusetts, firefighters experienced this first-hand: Five deaths in 2015 were caused by the lack of home fire alarm systems or improperly functioning alarms. This is something especially frustrating for first responders since the Fire Department not only supplies smoke alarms to older homeowners, but installs them for free. So what's the disconnect—why are homeowners running the risk of getting smoked out?
Common Problem
Despite data from the NFPA and other agencies which shows the link between working smoke detectors and the chance of getting out of your home during a fire, many home and business owners don't test their detectors regularly, allow batteries to fail or remove detectors altogether. In New York, firefighters have now backed a bill to make tamper-proof smoke detectors with 10-year batteries mandatory in homes to help reduce the number of smoke-related deaths.
In Worcester, meanwhile, firefighters are dealing with the aftermath of five incidents linked to problems with smoke detectors. In the case of Mary Grace Fursaro, 85, and her brother Nicholas Fursaro, 71, the culprit was a missing smoke detector, while in three other deaths last year, the detectors simply weren't working either due to malfunction or because their batteries were dead. In all five cases, a working smoke alarm would have given residents a fighting chance—since no burns were found on the most recent victims there's a high likelihood that smoke, not fire, was responsible for both deaths. 
Avoiding the Issue
So why do homeowners ignore the need for working, regularly-checked smoke detectors? Part of the problem is frequency—most owners never experience a full-scale house fire and many believe other warning signs would alert them before smoke detectors went off. Other residents are frustrated by overly-sensitive detectors which react to even trace amounts of smoke from cooking or excess moisture from hot showers. As a result, it can be tempting to fully disable or partially cover smoke detectors and reduce their day-to-day impact. The problem? When needed, these devices aren't functioning at full capacity, meaning they might sound the alarm far too late or not respond at all to increasing smoke levels.
That said, it should be repeated that it is imperative for all home owners and renters to have functioning, monitored, fire alarm systems in their homes or apartments. To ensure its effectiveness, a monthly check of all smoke detectors in your home is required to make sure they're clear of debris and dirt. When in doubt, ask a firefighter—they'd prefer to educate homeowners on proper use than fight a two-story blaze and face the prospect of trapped victims.
Don't get smoked out: An ounce of detection is worth a pound of cure.
Next Steps:
https://www.americanalarm.com/wp-content/uploads/2022/12/American-Alarm_logo_1Xr.png
0
0
American Alarm Blogging Team
https://www.americanalarm.com/wp-content/uploads/2022/12/American-Alarm_logo_1Xr.png
American Alarm Blogging Team
2016-01-26 16:49:58
2017-04-26 17:55:49
Smoked Out—Missing, Broken Detectors Blamed For Worcester Deaths