Sleeping-bags, S'mores, and Securing Your Campsite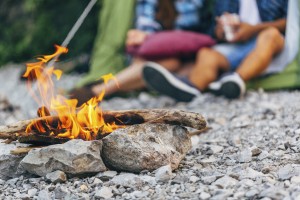 Camping is a dying art. Most kids today have never slept in a tent in their backyard, let alone in the middle of the woods. So before the weather gets to cold, consider taking the family on a weekend camping trip. Camping is a fun, inexpensive way to get away from it all. If you haven't experienced it, you will be amazed how unplugging from technology and cooking a good meal over a fire pit can bring a family together.
When well prepared, you will be surprised how fun and comfortable the great outdoors can be. Whether you're a seasoned camper or you don't know a tarp from a tent, follow these tips to make your trip a safe and memorable experience.
There will be weather
Unfortunately, the weather is unpredictable. Even if you check the forecast before you leave, chances are you will experience some weather that you didn't expect. Pack plenty of sunscreen, hats and light clothing for hot days. Your campsite may or may not have easy access to fresh water, so bring plenty of bottled water.
Even when the days are warm, typically the night will be much cooler. It is not uncommon for temperatures to drop to the low sixties on summer nights, and early fall it can even dip bellow fifty degrees. Invest in a warm sleeping bag. Bring plenty of warm clothes and warm pajamas to sleep in.
Preparing for wet weather is crucial. Always pitch your tent on a tarp to keep rain from seeping in, and set up the rain cover on cloudy days. Make sure to pack a rain jacket, and bring plenty of books and board games to keep entertained. In the event of an intense storm, especially with lightning, take shelter in your vehicle.
There will be bugs
You may not be able to predict the weather, but know with certainty that you will run into bugs. Bugs are not only pesky, but dangerous. Mosquitoes and ticks can carry diseases that may make your sick. Bring along a couple different strengths of bug spray. Typically you will need a weaker spray during the day and a stronger one at night. If you are camping by water or deep in the woods, even the strongest bug spray will not be 100% effective. Consider investing in a screened tent. This is a great shelter to retreat to, especially if it rains. Citronella candles are also surprisingly effective and inexpensive.
There will be wildlife
Wildlife is one of the best parts of camping! Depending on where you are, you may see birds, small mammals, and maybe a moose if you're lucky. Although these animals are beautiful, you must take precautions around them. Remember that they are in their natural element, and you're the outsider. Never make any quick movements towards an animal. They could see you as threatening and try to protect themselves.
Do not leave any food or garbage lying around. Animals are constantly hunting for a meal, and they will find your food if you aren't careful. Dispose of your trash every night, or at least hang it from a tree away from your site. Try to store food in your car, or at least in sealed containers. Most importantly, you should never bring food into your tent. The last thing you want is a hungry bear trying to break-in while you're asleep.
There will be other campers
Even if you are going to a very remote campsite, chances are that you will have at least a couple of neighbors. Don't be shy, go over and say hello! If they seem like trustworthy people, you can make a pact to keep watch over each other's sites while you're out.
Even if your neighbors seem great, don't leave electronics and valuables in your tent. Keep these items safely locked away in your car. Better yet, try to not bring valuables with you at all! Camping is much more fun when technology is left at home.
There will be fire
Roasting hotdogs and marshmallows around a campfire is a great bonding experience, but take precautions around fire. Always have adult supervision around the fire pit. If your fire pit comes with a ring, leave it on. There is a reason the campsite put it there in the first place.
Every campground has different rules about what time fires need to be extinguished. Make sure you know the rules at your campground, or you could be fined. Never leave a fire burning when you go to bed. Let the fire burn down, and pour water over the embers to cool them completely.
With summer drawing to a close, now is the perfect time to do something fun with the family! Give camping a try! You will be pleasantly surprised how relaxing it is when you've prepared.
Next Steps:
https://www.americanalarm.com/wp-content/uploads/2022/12/American-Alarm_logo_1Xr.png
0
0
American Alarm Blogging Team
https://www.americanalarm.com/wp-content/uploads/2022/12/American-Alarm_logo_1Xr.png
American Alarm Blogging Team
2015-08-29 10:31:38
2015-08-29 10:31:38
Sleeping-bags, S'mores, and Securing Your Campsite