School Vacation Safety Tips This Spring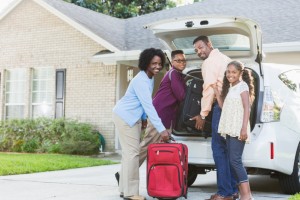 Spring vacation is just around the corner. Time for relaxation and fun. It's a time of year many families take a break from their every day lives and travel to somewhere really warm and fun.
For other families, though, spring break means kids having to stay home alone or with a caretaker while mom and dad are at their jobs.
Whether you're jetting off to Walt Disney World with your children or sitting in your office cubicle while they're amusing themselves at home, it's important to take some precautions to ensure their safety.
Here are some tips to help your kids have fun and stay safe during school vacation no matter where they are.
Use location devices – You can keeps tabs on your children by using mobile location technology. Whether you're at the beach, an amusement park, or hiking an out-of-the way trail, there are a number of devices that will help you keep track of where your kids are. If your kids are home alone while you're at work, you'll feel better knowing that you can locate them.
Craft an emergency plan – In case your family gets separated in the land of the mouse or anywhere else you may be, be sure you've designated a place where your children should meet up with you. Talk to them about the people they should – and should not – approach for help. Ensure they know the name and address of your hotel.
Don't forget the safety gear – If you and your family are getting in some spring skiing or biking the mountain trails of Colorado, be sure that everyone is wearing the appropriate safety gear so they can be protected in case of accidents. The right helmets, knee pads, elbow pads, as well as protective clothing and shoes can help prevent injury.
Use the buddy system at the beach – Everyone, especially children, should swim with someone else. If one person gets into trouble, the other person can call for help.
If your child will be home alone or with a caregiver during spring vacation you should:
We hope you and your children have a super time over spring break. Following these tips will help your kids stay safe and give you piece of mind.
NEXT STEPS:
https://www.americanalarm.com/wp-content/uploads/2022/12/American-Alarm_logo_1Xr.png
0
0
American Alarm Blogging Team
https://www.americanalarm.com/wp-content/uploads/2022/12/American-Alarm_logo_1Xr.png
American Alarm Blogging Team
2016-04-07 18:11:41
2016-04-07 18:11:41
School Vacation Safety Tips This Spring