Quality of Business Security Surveillance Video Technology
Video surveillance is increasingly becoming a key component of any business security strategy. A business security video surveillance system can play multiple roles when it comes to protecting your company's assets, including:
Reducing employee theft
Documenting break-ins or vandalism
Providing a chain of evidence when investigating accidents
Reducing insurance premiums.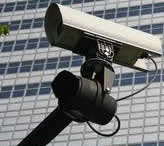 Not all business security systems are created equal, however. In fact, in order to fully benefit from the protection of video surveillance, it is necessary to make sure that the system you order matches your particular needs.
When selecting a surveillance system, it's natural to focus on the quality of the video images that will be provided. High definition video is much more affordable now than in previous years, and this technology offers the kind of crystal-clear resolution and detail that can mean the difference between identifying the suspects in a robbery or the serial numbers of a piece of missing inventory.
It's also crucial to ensure that the video equipment being used is capable of handling the light conditions of the environment where it has been installed. Low light, heavy-sunlight, and areas that go through a transition from one to the other all need to be taken into consideration.
Selecting cameras that make use of the infrared spectrum, laser-based illumination, or even thermal imagery can help gather high quality video surveillance in even the darkest of areas where the installation of additional lighting simply isn't possible. Proper camera placement — such as in positions where the lens is virtually guaranteed to capture a clear image of an individuals face — is also an important consideration.
Moving past video quality, there are a number of other issues that should be taken into account when choosing which business video surveillance system to purchase. Will you require remote access to the video feeds in question, allowing you to view them from your mobile phone or PC? Will you want the capability to receive wireless notifications should the system detect something out of the ordinary (i.e. an intrusion into a warehouse, or material being moved without authorization)? These kinds of advanced features are available with modern business security systems.
The greater the business video surveillance resolution, the higher the costs in terms of initial purchase price and, in some cases, the bandwidth associated with transmitting and storing that video stream. That being said, the up-front fees associated with high definition video often pay for themselves when factoring in the enhanced detail that it provides and the greater potential to get to the bottom of any thefts or other incidents that might impact your business.
Next Steps:
https://www.americanalarm.com/wp-content/uploads/2022/12/American-Alarm_logo_1Xr.png
0
0
American Alarm Blogging Team
https://www.americanalarm.com/wp-content/uploads/2022/12/American-Alarm_logo_1Xr.png
American Alarm Blogging Team
2013-04-25 16:07:28
2013-04-25 16:07:28
Quality of Business Security Surveillance Video Technology