Personal Safety: Tips and Tools For The Holidays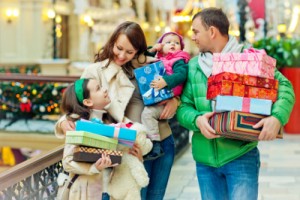 The holidays are upon us and that means big business for shopping malls and retail outlets. It also presents a wealth of opportunities for criminals looking to cash in and grab cash, credit cards, or gifts—either from your vehicle or by lifting it when you're not looking. Here are some essential tips to help keep your personal property safe this holiday season.
Shop Smart
Some of the most lucrative spots for would-be criminals are shopping malls just before the holidays, since many shoppers are looking to knock off their entire Christmas list at once or buy a few big-ticket items while they're on sale. With so many gifts to buy and the car close at hand, it's easy to drop off a few presents here and there and then go back into the mall. This creates the perfect opportunity for thieves: Scan the parking lot for vehicles full to the brim with presents, pull up beside them in another car and then pop the lock or smash the window. It takes less than 30 seconds: Criminals spot their target, roll in, and are gone before anyone has the chance to notice or call police.
Police organizations recommend planning your shopping trip before you go—if possible, head home to drop off presents between destinations so criminals won't single out your vehicle. If this isn't feasible because the mall parking lot is a zoo by 10 am, bring a tarp or blanket to cover your purchases when you're away from the car. If criminals don't see what they want right away chances are they'll move on to a new target. 
Plan Ahead
What happens if your shopping day turns into a shopping night? Suddenly the walk to your car seems much longer, and since would-be thieves prefer the shadows this isn't far off the mark—it's easy for them to accost shoppers in dark corners and demand they hand over cash or credit cards. Best bet? Go shopping with someone else or as a group to deter criminal interest or pair up with someone else heading out the parking lot. During the holidays, most people are inclined to go out of their way and help strangers, especially when asked, so it's worth either by asking for help or volunteering to accompany someone to their car.
Use Technology
It's easy to think of smartphone apps as little more than games and social media services, but you can also download applications which offer personal protection during the holidays. Life360 is a good example. It lets families or friends set up a private network which they can use to provide their location and a message letting everyone else know they're safe. The app also comes with a "panic button" that sends text, email and makes a voice call if you need help; in most cases if criminals know you're not truly "alone" they'll look for another target.
Wearable safety devices are also gaining traction—as noted by WECT, the Tiger Eye Security Sensor is small wearable camera which turns on if users help for help, then records audio and takes pictures in addition to calling the police. It also features a GPS tracker and all data is stored in the cloud.
Don't become a target this holiday. Shop smart, plan ahead and use technology wherever possible to improve your seasonal safety.
Next Steps:
https://www.americanalarm.com/wp-content/uploads/2022/12/American-Alarm_logo_1Xr.png
0
0
American Alarm Blogging Team
https://www.americanalarm.com/wp-content/uploads/2022/12/American-Alarm_logo_1Xr.png
American Alarm Blogging Team
2015-12-21 12:00:14
2015-12-21 12:00:14
Personal Safety: Tips and Tools For The Holidays