Merry and Bright: Holiday Electrical Safety Tips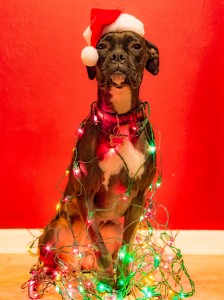 One of the best things to do around the holidays is to drive around and see all of the beautiful lights. While large scale light displays are impressive, it is important to take precautions and know what you're doing.
We've compiled a list of safety tips to help you keep the lights on:
Keep your electrical decor in the packaging you bought them. This contains important information, such as whether the decorations are intended for indoor or outdoor use and wattage information.
Throw away any decorations with damaged electrical pieces (cords, plugs, and battery operated ornaments).
Don't plug too many decorations into an outlet. Overloading circuits with plugs and extension cords can cause overheating, which could result in a fire.
Never connect more than three strings of incandescent lights. This can trip the circuit breaker and cause a fire.
Avoid running your extension cords under carpets, through doorways, or around furniture. NEVER plug extension cords into one another.
Turn off and unplug any decorations before you go to bed.
If you are stringing lights on a tree, indoors or out, make sure the tree is alive and well watered. You can check this by running your hand down the pine needles. If they fall out easily, the tree is dying.
Always plug outdoor electrical decorations into Ground Fault protected outlets.
Keep all outdoor lights and cords away from snow, ice, and puddles.
Use proper clips to secure lights. Do not use nails or staples.
Keep an eye on your pets. You don't want them to chew and damage electrical cords.
Also, remember to take most of your lights down within a few weeks after the New Year. Holiday decorations are not meant for long term use, and quickly wear out.
NEXT STEPS:
https://www.americanalarm.com/wp-content/uploads/2022/12/American-Alarm_logo_1Xr.png
0
0
American Alarm Blogging Team
https://www.americanalarm.com/wp-content/uploads/2022/12/American-Alarm_logo_1Xr.png
American Alarm Blogging Team
2016-12-06 17:52:37
2017-03-21 12:50:02
Merry and Bright: Holiday Electrical Safety Tips