Memorial Day Will Go Smoother with These Safety Tips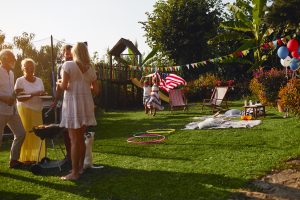 Memorial Day is just a few weeks away. Remember, just because it's a holiday, Memorial Day is not immune to thieves, fire or environmentally related events.
Ideally, if we follow the rules of the road, observe good grilling/campfire practices, and take the usual home security precautions if we should travel, we'll do just fine. Let's focus on two key areas: Travel and outdoor grilling.
Staying And Grilling on Memorial Day?
The warm weather seems to go hand in hand with grilling disasters as a Boston magazine article points out. In the piece, a Boston Fire Department spokesman noted that a summer didn't go by without at least one "out of control blaze" caused by illegal grilling.
If you're hosting a barbecue and are going to hit the grill, obey the law, and use common sense. Luckily, the Commonwealth of Massachusetts has some sound advice, of which we offer as sample below:
Is this the first time you're firing up the grill this year? Check the hose for leaks by pouring a light soap and water mix through it.

Whether you're tending a fire in a camp or grilling out back, have an extinguisher nearby.

Keep pets and children at least three feet from a grill area.

Never grill indoors, and avoid using a grill on upstairs balconies without a fire escape or other exterior stairway exit to the ground.
Going Places on Memorial Day?
In recent years, a Connecticut man and wife team robbed a Bangor, Maine, bank and Dollar Tree store over Memorial Day weekend. Similarly, one man in Concord, New Hampshire committed two armed robberies on consecutive days during a holiday weekend.
So, if you're heading off (especially for a three-day weekend), be wary of thieves looking for an empty, unguarded house.  With that, you should take your usual house precautions:
Before leaving, lock the doors, windows, etc.

Have two cars? Leave one in the driveway to indicate someone is at home — this discourages thieves.

Set your alarm, activate your sensing/surveillance systems, and make sure your cameras are all activated.

Have a video streaming app? Make sure you routinely check on it via your mobile phone.
Full safety on Memorial Day and beyond requires deploying high tech-based security surveillance and monitoring solutions and services. It also demands taking common sense steps, as we mentioned above. Don't skimp on either, and enjoy your Memorial Day weekend.
NEXT STEPS:
https://www.americanalarm.com/wp-content/uploads/2022/12/American-Alarm_logo_1Xr.png
0
0
American Alarm Blogging Team
https://www.americanalarm.com/wp-content/uploads/2022/12/American-Alarm_logo_1Xr.png
American Alarm Blogging Team
2019-05-22 10:00:01
2019-05-09 12:40:00
Memorial Day Will Go Smoother with These Safety Tips