Inspect Your Business Fire Alarm System Regularly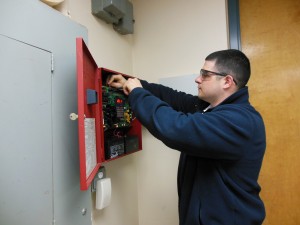 As a building owner/business owner, it's critical that you take all the necessary – and mandated – steps to protect the lives of your employees and your customers. Commercial fire alarm systems are critical to helping you protect your business from fire and smoke.
When operating properly, these commercial fire alarm systems can prevent loss of life and property by alerting the people in your building and your alarm company of a fire emergency.
However, you can't count on fire alarms to offer the protection your business needs if they're not inspected on a regular basis.
The best way to determine if your business fire alarm system is up to code or if it needs maintenance is to have it inspected by trained professionals on a regular basis – an extensive inspection and testing should be done annually.
Regular inspections can help ensure that your fire alarm system complies with the National Fire Protection Association (NFPA) 72 standards. The NFPA also offers information about the requirements for the frequency of fire alarm testing.
In addition, the Occupational Safety and Health Administration (OSHA) has specific regulations in place pertaining to the installation and functionality of fire alarm systems in businesses. "The employer shall assure that all employee alarm systems are maintained in operating condition except when undergoing repairs or maintenance," according to OSHA.
It's important to be aware of what the laws in your state and city require as well as what kind of testing schedule offers your business the best level of protection. Your alarm company can help you with these issues. You should also ask your insurance company about its requirements.
If your alarm system isn't being tested regularly, you may be more susceptible to false alarms. False alarms are not only annoying; they waste of your fire department's time and resources. You can be fined if your system creates numerous false alarms and regular inspection and testing can reduce the likelihood of false alarms. Having licensed technicians inspect and maintain your commercial fire alarm system will help you save money by preventing emergency repairs and false alarms – items that most likely aren't included in your budget.
The NFPA recommends training building maintenance workers or other employees to recognize when your system isn't functioning properly. They should also know how to reset it, and when they should call for service. However, extensive annual testing must be done by qualified state licensed inspectors.
If they're not properly maintained, even the best fire alarm systems can be rendered ineffective. A well-maintained system can prevent fire catastrophes, save lives and reduced the interruption to your business.
NEXT STEPS:
https://www.americanalarm.com/wp-content/uploads/2010/02/MSCA_LOGO.jpg
92
100
American Alarm Blogging Team
https://www.americanalarm.com/wp-content/uploads/2022/12/American-Alarm_logo_1Xr.png
American Alarm Blogging Team
2016-06-07 13:11:25
2016-06-07 13:11:25
Inspect Your Business Fire Alarm System Regularly