How Your Home Security System Can Help Protect You from Door Knockers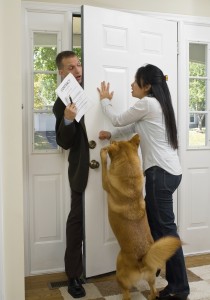 The warm weather brings some great things back to New England. Every spring we enjoy the return of wildlife, flowers, and Red Sox baseball. But warmer weather can also bring out the pests, such as ticks and mosquitoes.  The spring season also brings "door knockers" to some neighborhoods. Door knockers have been reported, in many cases, to be deceptive, aggressive salespeople that sometimes use fraudulent claims to try and sell you services or gain access to your home. The Boston area has already had recent reports of suspicious solicitors going door-to-door.
The good news is that your home security system could play a big part in keeping you safe. Here is how:
Install cameras to check who is at the door before you answer.
With video surveillance, you can take a peek outside your front door without needing to open it. If you are home alone and do not recognize the knocker, it's probably safer to not answer. If the knocker is from a legitimate organization and really wants to get a hold of you, they will likely leave information for you to contact them.
If the door knocker claims to be from a security company, always ask for identification. Everyone in the security industry should be able to show you their ID badge and their state certificate of clearance.
Consider installing an intercom.
This is a great way to safely communicate with someone outside your door. If you are not interested in speaking with them, ask them to leave. If they refuse or continue to push, call your local police department immediately.
Display your emergency response locator sign.
If you are an American Alarm monitoring customer, we will send you a free yard sign and window decal. These signs are great for deterring potential burglars and scam artists. If you don't have a sign or it was damaged over the winter, you can request one here.
Ask your local police department for a list of legitimate door-to-door companies. 
Legitimate door-to-door companies are supposed to register with the police department. If someone shows up on your door trying to sell you goods or services and they are not on this list, notify your local police.
Contact your neighbors.
Neighbors need to watch out for one another. If you have had this encounter, one of them probably has or will too.
As your alarm company, our job is to keep you safe from any security threat. So make sure you are using your security system to its full potential!
NEXT STEPS:
https://www.americanalarm.com/wp-content/uploads/2022/12/American-Alarm_logo_1Xr.png
0
0
American Alarm Blogging Team
https://www.americanalarm.com/wp-content/uploads/2022/12/American-Alarm_logo_1Xr.png
American Alarm Blogging Team
2016-04-21 17:00:36
2017-04-27 14:54:35
How Your Home Security System Can Help Protect You from Door Knockers