How to Teach Your Teens to Be Safe Drivers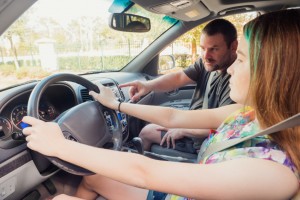 Most teenagers start dreaming about getting their drivers' licenses when they hit middle school. Parents, on the other hand, lie awake at night trying to figure out how to postpone the inevitable.
If your teen is on the road to getting on the road, they will likely need your assistance as a driving instructor to supplement any drivers' education programs. For most parents, this can be a daunting task.
At American Alarm, we care more about just your home and business security—we care about your personal safety too. To that end, here are some tips to make teaching your teenager to drive less nerve-wracking while ensuring that you help your child become a safe and careful driver.
1. Listen to Your Gut
If you just don't feel comfortable letting your teen drive alone once the law permits it—or if you think that he needs more practice—then don't let them drive alone. Continue practicing in a deserted parking lot when the weather is nice. Then as your teen becomes more proficient, you can move onto the roads at different times and in different weather conditions. Typically, new teenage drivers will feel safer if there is an adult in the car with them. The more practice your child has, the better driver they will become.
2. Be a Driving Role Model
You can't just tell your teen to, "Do as I do." It just doesn't work. However, your teenage driver will probably imitate your—or another adult's—behavior behind the wheel. Therefore, set a good example for your teen to follow. For example, be sure to obey all traffic laws–don't speed, don't be an aggressive driver, don't accelerate to make it through a yellow light, and never use your smartphone to talk or text when you're driving.
3. Teach Your Teen to Anticipate Problems
When any driver is faced with a hazard on the road, knowing what to do is key. That's why it's especially important to teach your teen how to anticipate potential problems and what to do if they occur. When hazards happen, teens must understand how to make good decisions while still paying attention to driving. "Teach your teen to keep a margin of safety around the vehicle, look for a way out and develop a plan of action to avoid crashes," according to the Teen Safe Driving website of the Brain Injury Alliance of New Jersey.
4. Staying Calm is Key
If your teen makes a mistake, don't raise your voice, speak harshly, or criticize. It's important to stay calm and have your teen repeat the action—e.g., parallel parking—until he does it right. Point out to your teen that mistakes are a normal part of the learning process. You should also not freak out if he's in an accident. Reassure him that what's important is his safety and the safety of other people.
Following these tips will help set your teen on the road to become a safe and responsible driver and allow you to get a good night's sleep.
Next Steps:
https://www.americanalarm.com/wp-content/uploads/2022/12/American-Alarm_logo_1Xr.png
0
0
American Alarm Blogging Team
https://www.americanalarm.com/wp-content/uploads/2022/12/American-Alarm_logo_1Xr.png
American Alarm Blogging Team
2016-02-29 12:00:31
2016-02-29 12:00:31
How to Teach Your Teens to Be Safe Drivers