How to Stop a Vandal: Headstones Damaged in Remote Cemetery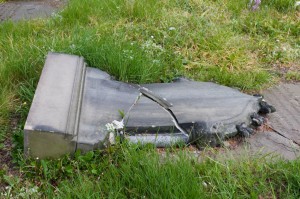 In Auburn, MA, vandals are terrorizing the 118 year-old Worcester Hebrew Cemetery, which lies at the far end of Cemetery Road. As reported by Telegram Towns, criminals recently toppled 19 headstones and caused irreparable damage to several of the grave markers.
While the Auburn police are doing everything they can — and the Jewish Federation of Central Massachusetts is offering $500 for information leading to the arrest of these vandals — leads are slim.
Common Ground
Cemetery director Jordan H. Robbins says this isn't the first time vandals have desecrated the grounds. Two years ago, the facility's equipment building was set ablaze — and in 2002 over 100 stones were toppled. The remote nature of the cemetery makes it an attractive gathering place for large groups of young people, Robbins often finds empty beer cans strewn across the site. Cleaning these up is a minor inconvenience, but when enough alcohol is consumed larger problems emerge, like the destruction of solar-powered motion lights mounted on 12-foot poles.
So how does a vulnerable location like Worcester protect itself from vandals? Running electricity to the site costs a prohibitive $23,000 and there are no local residents to report crimes in progress. According to Michigan State University, one avenue of defense is "context sensitive design". The cemetery is already doing some of what the University recommends, for example basic upkeep and definition of the space for a specific use. Other options include access control — for example a gate or high fence — and activity support, which sees spaces used for specific purposes such as community gatherings that occur at irregular times. If criminals can't be sure when the site is occupied, they're more likely to choose another target.
Education and Technology
Education also plays a critical role. Robbins argues that parents must teach their children respect for private spaces — this dovetails with the idea of "natural surveillance" which has community members watching out for any illicit activity.
Given the remote nature of Worcester Hebrew Cemetery, however, the next logical step is to leverage technology. The site is considering motion-detection cameras but could see bigger benefits from IP-enabled video solutions ready to record in real time if motion alarms are triggered. By choosing a high-quality monitoring solution and then making that choice public, criminals would likely scatter under the threat of always-watching eyes.
Remote locations present a unique challenge for security. Context sensitivity can help limit vandalism and other crimes of opportunity, while the right technology can both dissuade vandals and identify perpetrators.
Next Steps:
https://www.americanalarm.com/wp-content/uploads/2022/12/American-Alarm_logo_1Xr.png
0
0
American Alarm Blogging Team
https://www.americanalarm.com/wp-content/uploads/2022/12/American-Alarm_logo_1Xr.png
American Alarm Blogging Team
2014-10-29 08:55:38
2014-10-29 08:55:38
How to Stop a Vandal: Headstones Damaged in Remote Cemetery