How to Select the Best Medical Alert System for Your Elderly Loved One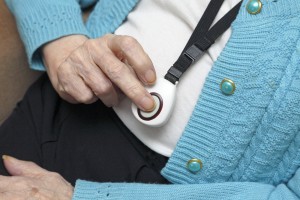 Each year, more than one out of four people, age 65 and older falls, and falling once doubles their chances of falling again, according to the Centers for Disease Control and Prevention.
In addition, six out of every 10 falls happen at home, according to NIHSeniorHealth.gov.
Many older adults want to continue living in their own home as they age. It can be hard for you to agree to their wishes because of the risks involved.
To help your elderly loved ones live independent lives, especially if they're going to be home alone for long periods of time, you should look into getting a medical alert system.
In an emergency, your loved one pushes the help button and a medical alarm signal is transmitted to a monitoring company's security command center, an emergency agency or programmed telephone numbers. Then medical personnel are sent to the site where the alarm was activated.
With so many medical alert systems on the market, it's difficult to figure out which is the right one for your family member. To help you make the right decision, we've made a list of some of the important features that you should look for in a medical alert system:
Wearability – a system that allows a wearer to choose a wristband or neck pendant is the most effective because it can be aimed at his or her preferences. You should also select a device that is lightweight, comfortable, and approved by your loved one.
24/7 monitoring service – a system connected to your provider's security command center allows emergency responders to be dispatched to your elderly family member's home. With just a push of the help button, your loved one is connected to a 24-hour security command center where the provider's trained staff can evaluate the call and summon family or emergency help at any time.
Extended battery life – many small wearable devices have limited battery life, which means they have to be charged often. To avoid having to remember to charge them frequently, check reviews of the products you're considering to find out what real customers have to say about battery life. It's also important to select a medical alert system that has a battery backup so you can be sure it will continue to work in the event of a power failure.
Adequate range of the device – if your aging loved one doesn't go out alone, then a home-based unit that connects the senior to a monitoring service is adequate. However, if your family member is more active, you may want to consider a GPS-enabled device that will allow the senior to signal for help from anywhere, and notify emergency responders of his or her exact location.
Technical support – ask the providers if they send technicians to your home periodically to check if your system is working properly. It's best to look for a company that offers 24/7 monitoring and 24/7 support. Technical assistance is just as important as medical assistance because if the system goes out for any reason, you're loved one will be at risk.
Selecting the right medical alert system will give you peace of mind and help keep your aging loved one safe.
NEXT STEPS:
https://www.americanalarm.com/wp-content/uploads/2022/12/American-Alarm_logo_1Xr.png
0
0
American Alarm Blogging Team
https://www.americanalarm.com/wp-content/uploads/2022/12/American-Alarm_logo_1Xr.png
American Alarm Blogging Team
2017-03-06 13:20:20
2017-03-21 11:50:40
How to Select the Best Medical Alert System for Your Elderly Loved One