How to Safely Keep Snow Off Your Roof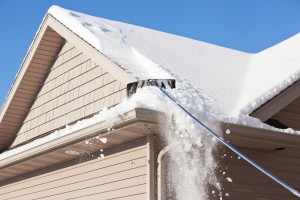 Winter in New England can bring with it frigid temperatures, lots and lots of snow, as well as brilliant, sunny days when the warmth of the sun entices people outside to do some skiing, ice skating or sledding.
Although freshly fallen snow is stunningly beautiful and playing outside on snowy days is fun, homeowners need to be aware that too much of the white stuff could cause the roofs of their homes to collapse.
The typical residential roof should be able to support 20 pounds per square foot of snow before becoming stressed, according to the Insurance Institute for Business & Home Safety (IBHS).
The IBHS offers some guidelines to help you determine how much the snow on your roof weighs:
Fresh snow: 10–12 inches of new snow equals 1 inch of water, or about 5 pounds per square foot of roof space. That means you could have up to 4 feet of new snow before the roof will become stressed.
Packed snow: 3–5 inches of old snow equals 1 inch of water, or about 5 pounds per square foot of roof space. Any more than 2 feet of old snow could be too much for your roof.
Total accumulated weight: 2 feet of old snow and 2 feet of new snow could weigh as much as 60 pounds per square foot of roof space, more than most roofs can handle.
Ice: 1 inch of ice equals 1 foot of fresh snow.
Here are some ways to safely keep snow off your roof courtesy of the Town of Wellesley and the Wellesley Police Department:
Use a snow rake that you can purchase at most hardware stores to remove snow from your pitched roof.
Start from the edge and work your way into the roof.
Rather than scrape all the snow off the roof, which could damage your shingles, try to shave the snow down to 2 or 3 inches.
It's important to note that any metal tool could conduct electricity if it touches a power line. In addition, metal tools will do more damage to your roof.
When you shovel snow from a flat roof, throw the snow over the side away from your home.
Keep drains and gutters free of ice and snow and keep downspouts clean at ground level.
You should also clear the direct vents of snow because an obstructed direct vent could cause a build up of dangerous carbon monoxide inside your home. Don't forget to check that your carbon monoxide detector is working, If the CO detector activates, get out of the house immediately and then call 911.
NEXT STEPS:
https://www.americanalarm.com/wp-content/uploads/2022/12/American-Alarm_logo_1Xr.png
0
0
American Alarm Blogging Team
https://www.americanalarm.com/wp-content/uploads/2022/12/American-Alarm_logo_1Xr.png
American Alarm Blogging Team
2017-01-12 20:05:32
2017-03-21 12:51:27
How to Safely Keep Snow Off Your Roof