How To Prepare for and Survive a Hurricane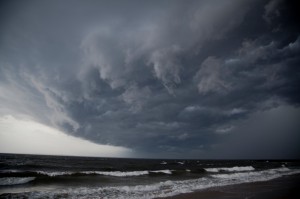 It's summertime; time for lazy, hazy, crazy days spent drinking watermelon martinis by the pool, roasting marshmallows over an open fire, napping in a hammock, catching fireflies in a mayonnaise jar, and lying on the cool grass looking up at the stars.
However, summer also brings high winds, torrential rains, flooding, storm surges, and devastating winds of one of the fiercest types of storms–the hurricane.
That said, if you take precautions before, during, and after a storm hits you can better protect your family and your property. Here are seven tips to help you safely prepare for and ride out the storm.
Before the Storm Hits
1. Keep a battery-operated radio and flashlight on hand: A radio comes in handy so you can listen for important storm updates and information. You can get the latest messages that are coming out from your local energy company, and don't forget the extra batteries!
2. Have a back-up plan for people on life-sustaining equipment: You should plan to move a person who depends on life-sustaining medical equipment to a facility–like a local shelter–with back-up power just in case your power goes out. If a family member relies on oxygen, you should have a portable oxygen supply on hand. You should also stock a 30-day supply of medicine to get you through.
During Severe Weather
3. Turn off all appliances: You should turn off or unplug your appliances and electronics, including TVs, VCRs, microwave ovens, computers, and stereos and disconnect cables to your TV antenna, satellite dish, or cable service. This will reduce the potential for damage or fire from a power surge once the power comes back on. You should wait about five to 10 minutes before you turn the appliances and equipment back on after your power is restored.
4. Turn off the electricity at the fuse box: If you're in a flood-prone area and you have to evacuate, this will prevent the electricity from going throughout your home once the power is restored. If there's damage to your house–if power lines are down and touching trees near your house–this will reduce the risk of fire once the power to your area comes back on. Remember a home fire alarm system is the best defense against protecting your family in the event of a fire.
After the Storm Hits
5. Stay away from downed/sagging power lines: You need to consider that all power lines and tree limbs that come in contact with those lines are energized. If a tree limb is touching an energy line and that line is still energized, and you touch the tree limb, you're going to get shocked. Be sure to keep your children and pets away from them as well.
6. Never attempt to remove downed trees or limbs alone: You never know if the trees or limbs are touching the power lines. You should report the problem to your local energy company or emergency services department, which will come out and remove them for you.
7. Don't leave your vehicle if there's a power line on it: If a power line falls across a car that you're in, don't get out of it until help arrives. It is safe to use your cell phone, but if you have to get out because of a fire or other emergency, you should do your absolute best to jump clear from the car, landing with both feet on the ground. Be sure that no part of your body is touching that car or that power line when your feet hit the ground.
Don't forget, being prepared, and knowing how to respond, is key to helping you cope after a hurricane hits.
Next Steps:
https://www.americanalarm.com/wp-content/uploads/2022/12/American-Alarm_logo_1Xr.png
0
0
American Alarm Blogging Team
https://www.americanalarm.com/wp-content/uploads/2022/12/American-Alarm_logo_1Xr.png
American Alarm Blogging Team
2015-07-08 08:55:22
2015-07-08 08:55:22
How To Prepare for and Survive a Hurricane