How To Appropriately Handle Employee Theft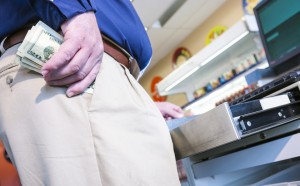 Employee theft can take different forms. Workers can steal merchandise, money, supplies and equipment and even pad their expense accounts. Regardless of the manner of employee theft, it still hurts your business and puts you in a tough management situation.
As a business owner, you do everything you can to hire employees who are trustworthy. If you suspect that a worker is stealing from you, it's critical that you handle the case carefully.
Here are some tips to help you deal with employee theft:

As Ben Franklin so wisely noted, "an ounce of prevention is worth a pound of cure." Although these tips will help you after the fact, it's important that you review your loss prevention policies and procedures with your employees to ensure they understand the consequences of stealing from you.
Next Steps:
0
0
American Alarm Blogging Team
https://www.americanalarm.com/wp-content/uploads/2022/12/American-Alarm_logo_1Xr.png
American Alarm Blogging Team
2016-05-17 13:35:36
2016-05-17 13:35:36
How To Appropriately Handle Employee Theft