Holiday of Horrors? Halloween Crime Prevention Tips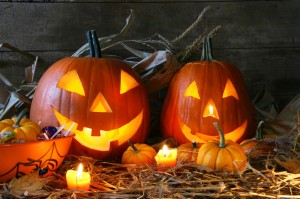 October is National Crime Prevention Month — and beyond efforts aimed at reducing crime overall, the month also comes with a specific risk: Halloween. Here are four tips to help New England-area home and business owners stay safe this Hallow's Eve.
Worst of the Worst?
It makes sense that crime spikes on Halloween. The sheer number of people out and about after dark, all dressed in masks and not easy to identify often leads to a lowering of inhibitions coupled with the notion that criminals won't be caught. In fact, Northeastern University Professor James Allan Fox once argued that violent crime in Boston rises sharply on three specific dates: New Year's Day, Independence Day, and Halloween. The worst of the three? You guessed it: All Hallow's Eve.
Costumed Criminals
The biggest risk on Halloween? Anonymity. When everyone wears a costume, no one stands out and it's difficult to identify individuals. What's more, bulky outfits can easily conceal weapons or stolen items, making it a challenge to discover who's out for a good time and who's out to cause trouble. And while "folklore" crimes of razor blades and poisoned candies have been proven false, there's a general perception that older kids — and adults — are causing havoc.
In fact, many police agencies report that crime volumes stay steady on Halloween, rather than showing a marked increase. But risk, not reporting, is the real story: Halloween sets the stage for easier crimes, putting homeowners and businesses on edge.
Stopping the Scare
To help prevent Halloween crimes, start with these four tips:
Keep The Lights On: Masked men and women prefer to commit crimes in the dark. Businesses and homes that are well-lit and well-kept are less likely targets for vandalism.
Don't Be Afraid to Ask: Makeup is becoming a popular alternative to masks, making it easier to see faces. If you encounter a masked creature that makes you suspicious, ask them to remove their mask before serving them or handing out candy.
Go for Groups: When it comes to trick-or-treating, the more kids the merrier — and the safer. For businesses, consider putting an extra staff member or two on shift to deter potential criminals. There's safety in numbers.
Stay Secure: If you have a security system, use it, and make sure visitors know it's working. Obvious cameras, alarm company signs or motion detection lights let everyone know that their actions are under scrutiny.
Halloween can be a fun, lighthearted holiday for businesses and homeowners alike — but it's also normal to experience unease at the heightened threat of crime. Stay safe by lighting up, asking for mask removal, opting for groups and making it clear that you've protected your property.
Next Steps:
https://www.americanalarm.com/wp-content/uploads/2022/12/American-Alarm_logo_1Xr.png
0
0
American Alarm Blogging Team
https://www.americanalarm.com/wp-content/uploads/2022/12/American-Alarm_logo_1Xr.png
American Alarm Blogging Team
2014-10-22 08:55:41
2014-10-22 08:55:41
Holiday of Horrors? Halloween Crime Prevention Tips