Fire Safety for Older Adults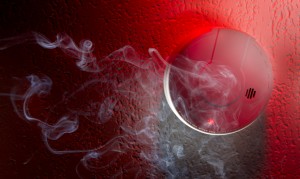 An elderly couple in Methuen, Mass. died after a two-alarm blaze swept through their ranch-style home at the end of February, according to Boston.com.
The fire broke out about 3 a.m. on February 26, quickly engulfing the single-family structure. The man and woman were found in separate parts of the home after the fire had been extinguished, according to State Fire Marshal Stephen Coan.
Coan told the newspaper that since January 1st, 11 people had died in fires in Massachusetts – five of the victims had been elderly.
Additionally in February, a couple in their 80s died in a house fire in Concord, Mass., and a 90-year-old South Boston man died from injuries he suffered in a fire in his apartment.
"This has been a difficult year," Coan told Boston.com. "The elderly population has been vulnerable in these fires."
In fact, older adults are three times more likely to die in fires than the rest of the population, according to information from the Massachusetts Fire Marshal's office. Adults age 65 or older made up 14% of the U.S. population in 2012, but accounted for 33% of the fire deaths that year.
It's unclear if the elderly victims of the February fires had working fire alarm systems, but according to the fire marshal's office more than a third of seniors who died in fires in Massachusetts in 2012 did not have smoke detectors installed in their homes.
Specifically, 36% of the 11 senior fire deaths in Massachusetts in 2012, were in homes that either had no smoke alarms or smoke alarms that weren't working.
To protect yourself and your loved ones, here are some fire safety tips from the state fire marshal's office:
Don't over overload outlets and power strips. Electrical fires in their homes caused 27% of the fire deaths and 14% of the fire injuries to older adults in 2012.
Use one appliance per outlet, particularly if it's a heat generating appliance.
Don't run electrical cords under rugs and don't let them get pinched by furniture.
Use extension cords temporarily; they're not designed to be used long-term or permanently.
Keep space heaters at least three feet away from anything that can burn.
Ensure that a licensed electrician inspects your electrical system every 10 years – he may need to make some small adjustments to keep the system in sync with your home's electrical needs.
Keep your eyeglasses, a telephone, and a whistle by your bedside. Eyeglasses will help you see so you don't get hurt trying to escape. Use the whistle to alert other people in the home to the fire. You can also blow the whistle to help firefighters find you. If you can't escape through the door, use the phone to call for help.
Install smoke alarms – or have someone install them for you – on every level and outside each bedroom.
Test each smoke detector once a month and change the batteries twice a year. Replace your smoke detectors every 10 years.
Devise an escape route.
In a fire, every second counts, that's why if you're an older adult it's critical that you install a fire alarm system that uses the best available technology with hard-wired smoke, heat, and carbon monoxide detectors that are monitored by a security command center. At the first sign of danger, an alarm is sent to a central monitoring station where security staff is on hand to respond and send help when you need it most and offer you total safety and peace of mind.
Next Steps:
https://www.americanalarm.com/wp-content/uploads/2022/12/American-Alarm_logo_1Xr.png
0
0
American Alarm Blogging Team
https://www.americanalarm.com/wp-content/uploads/2022/12/American-Alarm_logo_1Xr.png
American Alarm Blogging Team
2014-05-19 08:55:45
2014-05-19 08:55:45
Fire Safety for Older Adults