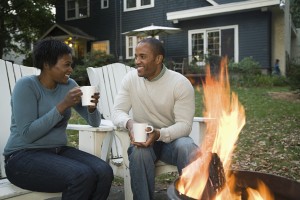 As the colder weather approaches and the leaves turn radiant shades of red, yellow, orange and gold, this is the perfect time to refresh your memory about fire safety – inside and outside your home.
Don't forget, when you turn your clocks back on November 6 to signal the end of daylight savings time, remember to change the batteries in your smoke detectors and your carbon monoxide detectors if they are not hardwired.
You should also replace CO alarms every five years and smoke alarms every 10 years so be sure to check their expiration dates when you change the batteries.
Here are some other fall fire safety tips that you should keep in mind:

If you're planning to burn some candles to give your house a cozy fall vibe, don't forget to blow them out when you leave the room or go to bed. Keep candles at least 12 inches away from anything that can burn. You should always use candle holders that are sturdy and won't tip over. Better yet, use flameless candles in your home. They look and smell like real candles.
Have a professional inspect and clean your fireplace, chimney, furnace as well as your coal and wood stoves. You should not burn coal in your wood-burning stove, unless it was designed to burn wood and coal. Never burn trash in your wood-burning stove because it could start a fire in the chimney. You should not use a flammable liquid to start a fire in your fireplace.
Keep all flammable materials away from your furnace, including clothing, paint products, toxic materials, cardboard and paper.
If you use a space heater, be sure it's on a hard, level and nonflammable surface such as ceramic tile floor. Don't place it on a rug, carpet or near bedding or drapes.
Learn the outdoor burning regulations in your area, and don't burn leaves and other outdoor debris illegally.
Never park your vehicle over a pile of leaves because the heat from the catalytic converter or exhaust system can ignite the leaves.
Don't store flammable liquids, including any unused fuel in a gas can, inside your home or in an attached garage or shed. Store this material away from your home and drain excess fuel out of the container before storing it to prevent accidental fires from escaping fuel vapors.
Remove fuel from lawn mowers before you store them for the winter.
If trees or branches aren't clear of power lines, you should contact the utility company.
Following these fire prevention tips will help you reduce the likelihood that your family will experience a fire. It's a good idea to review these tips with your family every fall.
NEXT STEPS:
https://www.americanalarm.com/wp-content/uploads/2022/12/American-Alarm_logo_1Xr.png
0
0
American Alarm Blogging Team
https://www.americanalarm.com/wp-content/uploads/2022/12/American-Alarm_logo_1Xr.png
American Alarm Blogging Team
2016-10-18 14:21:59
2017-03-21 12:50:40
Fall Fire Safety Tips