Buyer Beware: Door-to-Door Security Salespeople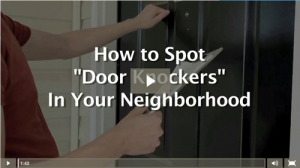 They're called "door knockers"—salespeople going door to door using aggressive sales pitches and fraudulent claims—hoping you'll buy one of their security systems.
They're pros, but if you know what to look for, you can spot them a mile away. Watch our video below (or read the transcript) for 5 ways to prevent falling victim to fraudulent door-to-door security salespeople.
Don't invite anyone inside your home if they showed up uninvited. They may want to case your home for a potential burglary.
Beware of pitches promoting super deals or limited time offers. They may say the equipment is free, but you could spend much more money for multi-year monitoring contract.
Don't fall for scare tactics, such as an increase in the amount of crime in your neighborhood. If you feel uncomfortable, shut the door and call the police.
Watch out for unlicensed contractors. Everyone working in your home needs to have proper credentials at all times.
Only do businesses with credible security companies. Do you homework. Get references from family and friends before you purchase.
Sometimes "door knockers" may even imply they're from your own security company—and encourage you to upgrade or replace your system. Keep in mind, your security company would never send anyone to your home unannounced or without proper identification.
Next Steps:
https://www.americanalarm.com/wp-content/uploads/2022/12/American-Alarm_logo_1Xr.png
0
0
American Alarm Blogging Team
https://www.americanalarm.com/wp-content/uploads/2022/12/American-Alarm_logo_1Xr.png
American Alarm Blogging Team
2015-04-22 08:55:29
2015-04-22 08:55:29
Buyer Beware: Door-to-Door Security Salespeople