Back to School Safety Tips for Kids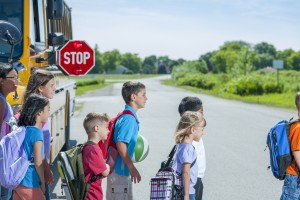 It's that time of the year again – summer is drawing to a close and kids are getting ready to head back to school.
If you're like most families, you're hitting the mall to buy new clothes, school supplies and probably the latest tech gadgets as well.
As you prepare to help your children go back to the classroom, you should also put their safety at the top of your to-do list.
Here are some tips you should share with your children to ensure they get to school safely:


Kids should only board a bus when it has come to a complete stop and the driver or bus monitor has told them it's safe to get on. They should not get up and walk around while the bus is moving.
Whether on the bus or walking, children should always pay attention to their surroundings. Texting, playing games on their phones, or listening to music can cause them to be distracted and maybe even injure themselves.
Youngsters should cross the street at the corner. They should obey traffic signals (waiting for the "Walk" signal before crossing), look both ways before stepping off the curb and stay in the crosswalk. If possible, children under 10 should cross with adults because it's difficult for them to judge how fast cars are going and how far away they are. Kids should never run out into the street, or cross between parked cars.
Children being driven to school should always wear seat belts. Younger kids should use booster seats until the lap-shoulder belt fits properly (typically when they're taller than 4'9"), and ride in the back seat until they are at least 13 years old.
Teenagers who drive to school should always wear their seat belts. In addition, they should never use their cell phones to make (or answer) voice calls or send and respond to text messages. They should not eat or drink while they're driving, either, because they can get distracted.
Kids who ride their bikes to school should always wear helmets – no matter how long or short the ride is. They should ride on the right side of the street, in the same direction as vehicle traffic, use bike lanes whenever possible, use appropriate hand signals, and respect stop signs and traffic lights.
Whether your kids walk, ride their bikes, take the bus, get a ride from someone or drive themselves, these tips will help ensure they arrive at their schools safe and sound.
NEXT STEPS:
https://www.americanalarm.com/wp-content/uploads/2010/02/SHARON.jpg
144
184
American Alarm Blogging Team
https://www.americanalarm.com/wp-content/uploads/2022/12/American-Alarm_logo_1Xr.png
American Alarm Blogging Team
2016-08-18 15:15:39
2016-08-18 15:15:39
Back to School Safety Tips for Kids