7 Outdoor Fire Safety Tips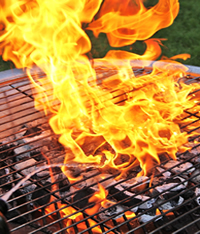 Summer is in full swing and that means backyard barbecues with family and friends and roasting marshmallows over open fire grills. It also means the potential for devastating grilling-related fires.
For example, on August 17, 2013, at 5:53 p.m., the Newton, Mass. Fire Department responded to a gas grill fire. The grill, which had been left unattended, ignited the exterior of the home. Damages from this fire were estimated to be $75,000, according to Massachusetts Fire Marshall Stephen Coan.
In 2013, 85 fires involving open fire grills were reported to the Massachusetts Fire Incident Reporting System. Two people were injured in the fires, which caused about $300,000 worth of damages. Seventy-five percent of all grill fires occurred between May and September, according to the fire marshal.
A home fire alarm system is the best defense in the event of a fire, but here are seven other tips from the Fire Marshall to help you keep your family and your home safe while you're grilling up those hot dogs and burgers.
Outdoor Fire Safety Tips:
Check gas grills for leaks and cracks. "Using a brush, apply a soapy solution made of one part dish liquid and one part water to the tank connection," Coan says. If the solution bubbles, you have a leak that needs repair." The fire marshal also recommends checking for – and replacing – any cracked hoses.
Place grills away from – and out of – buildings. Never use a grill inside your home or on the fire escape. Keep the grill about 10 feet away from the house and deck railings. Don't place a grill under the eaves or under overhanging branches. Massachusetts law prohibits you from using a gas grill on balconies above the first floor unless there is an exterior stairway to the ground.
Keep children and pets away from grills. Consider creating a three-foot-kid-free safety circle around the grill.
Move away from the grill if you smell gas. Call your local fire department immediately. Never attempt to move the grill yourself.
Turn the grill and gas off if the flame goes out. Wait 15 minute before relighting the grill.
Once the coals on a charcoal are burning, never add more lighter fluid to the fire because the flames could shoot up the stream of lighter fluid and burn you.
Only use a charcoal grill in a well-ventilated area. The charcoal briquettes give off deadly carbon monoxide gas. When you're through cooking on the grill, be sure to let the coals completely cool, then dispose of them in a metal container.
If you follow these outdoor fire safety tips, you and your loved ones will be safe this summer while enjoying your barbecues and fire-pits.
Next Steps:
https://www.americanalarm.com/wp-content/uploads/2022/12/American-Alarm_logo_1Xr.png
0
0
American Alarm Blogging Team
https://www.americanalarm.com/wp-content/uploads/2022/12/American-Alarm_logo_1Xr.png
American Alarm Blogging Team
2014-07-16 08:55:02
2014-07-16 08:55:02
7 Outdoor Fire Safety Tips