5 Tips to a Scary Safe Halloween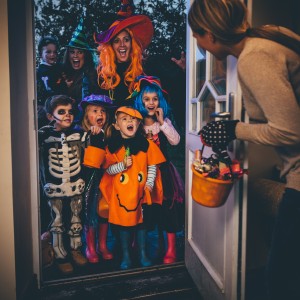 New England has a lot of spooky fun to offer up during Halloween. From haunted hayrides to witch tours through Salem, there are lots of ways to get your scare on. Whatever fun you're brewing up this year, it's important to keep safety in mind. Here are five safety tips to abide by this Halloween.
Dress for the occasion.
Halloween is all about the fashion!  When choosing a Halloween costume, make sure it is practical for the occasion. If you will be spending most of the night outside, you may want to go with a heavier costume (how about Jon Snow, complete with a fur jacket). If you will be walking a lot, wear comfortable shoes and bright, reflective colors (superhero costumes are always a great option).
Be cautious of Halloween treats.
There are so many delicious treats for Halloween, but take precautions! Always check candy to make sure the packaging hasn't been tampered with. Never allow your children to eat any homemade trick-or-treats from people you don't know.
Take precautions on the roads.
With all of the extra foot traffic during trick-or-treat, you want to stay vigilant. Drive a little slower than usual, especially in residential neighborhoods or near crosswalks. Turn the headlights on early so excited trick-or-treaters will spot you. If you are attending a Halloween party and consume alcohol, take an Uber home.
Clear your sidewalks and yard of debris.
The last thing you want is to be liable for someone injuring themselves on your property. Make sure you inspect your sidewalk and yard of any tripping hazards. If you are participating in trick-or-treat, check to make sure your front steps and porch are safe to prevent falls, twists and slips.
Protect your property.
If no one is going to be home on Halloween, take precautions. Ask your neighbors to keep an eye out for your home as they're handing out candy. Make sure your home is well lit, and that your doors and windows are locked. It is also a good idea to keep your pets inside for the night. If you have a home security system, make sure to activate it.
Remember to always report any suspicious activity to the police! They are prepared to catch any Halloween tricksters that try to spoil your fun.
NEXT STEPS:
https://www.americanalarm.com/wp-content/uploads/2022/12/American-Alarm_logo_1Xr.png
0
0
American Alarm Blogging Team
https://www.americanalarm.com/wp-content/uploads/2022/12/American-Alarm_logo_1Xr.png
American Alarm Blogging Team
2016-10-28 16:37:46
2017-01-19 10:03:42
5 Tips to a Scary Safe Halloween