4 Apps to Keep Trick-or-Treaters Safe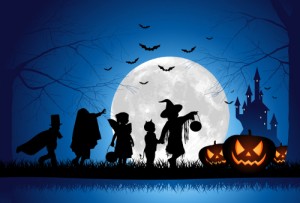 For the first time, your little monsters, princesses, superheroes, and hobgoblins may be roaming the neighborhood without you on All Hallow's Eve. Understandably, you're a bit worried.
Well, there are a number of safety apps out there that you can download that will allow you to keep tabs on your kids and give you piece of mind. Here are four of them:
1. FamilySignal
Using GPS, this location-sharing app lets you track your kids with your smartphone when they're out trick-or-treating with their friends. FamilySignal offers a visual map so you can see where they are in the neighborhood. Your children can use the app on their phones to check in with you when they get to certain places, use the "panic button" to alert you and, if necessary, the authorities if there's an emergency. You can also keep track of your children's locations using the "Geofences" feature. This feature lets you set boundaries for where you'll allow them to go, e.g., Mrs. Smith's house on Tudor Drive, and Mrs. Jones house on Derby Street. When they arrive or leave, the app will notify you. There are several plans, including one that's free. The free plan gives two family members full access to the FamilySignal features. If you decide not to upgrade when the 14-day trial period ends, the trial will convert to a free plan. FamilySignal is available for iOS devices.
2. Glympse
Glympse is a free app that lets you track your child's movements on Halloween night in real time. You can request Glympses of your kids while they're out and about scoring all those sugary goodies. If they download the app onto their phones, they can send you Glympses of their locations whenever they want. Your kids can also send you their locations via email, text, Twitter, and Facebook. Glympse is available for iOS, Android, and Windows.
3. Life360
Life360–This app works with your smartphone–your kids have to download it to their phones as well–so you can track your children's locations. You set a route for them to follow while they're out trick-or-treating and then they check in as they go from house to house. Life360 lets you create "favorite" places and when your kids get to those locations you'll get an automatic update. What's really neat is that Life360 doesn't have to be open for you to track your kids' locations. As long as it's been installed on their phones, they can just keep in it their pockets. This free app is available for iOS, Android, and Windows.
4. Footprints
Footprints is a GPS tracking app pulls your kids' locations automatically and that means that they don't have to have their phones out. The geofencing feature lets you set up a predetermined route and the app will notify you if your kids cross one of those "fences." You can also turn on settings that will tell every time your kids are on the move. Since this app runs in the background while it's pulling your kids' locations, you should ensure that their phones are fully charged. Footprints is free for the first 30 days, then it's $3.99 for a one-year subscription. It's available for iOS.
*Bonus App*
If there's a chance you live in an area where your kids could run into the real thing–like the Witch City, otherwise known as Salem, Mass.–you might want to download Ghost Radar, an app designed to detect paranormal activity. Available for iOS and Android devices, Ghost Radar uses various sensors on the devices running it to detect real, live ghosts (so to speak). Simple, mundane bursts of normal energy can usually fool traditional paranormal equipment. Ghost Radar, on the other hand, analyzes the readings from sensors, offering indications if it detects interesting patterns in the readings. Ghost Radar is available for iOS and Android.
If you download one of the four safety apps you'll take some of the fright out of Halloween for you and your kids. However, if you download Ghost Radar, there's no telling what will happen!
Have a ghoulishly fun–and safe–Halloween.
Next Steps:
https://www.americanalarm.com/wp-content/uploads/2022/12/American-Alarm_logo_1Xr.png
0
0
American Alarm Blogging Team
https://www.americanalarm.com/wp-content/uploads/2022/12/American-Alarm_logo_1Xr.png
American Alarm Blogging Team
2015-10-27 12:55:49
2015-10-27 12:55:49
4 Apps to Keep Trick-or-Treaters Safe