What to Do if Your Monitored Home Burglar Alarm Goes Off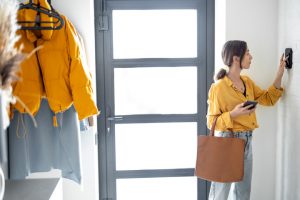 Having a monitored burglar alarm in your home offers peace of mind that you'll be alerted in the event of a break-in. Have you ever considered what you should do in the event that it goes off? Whether a false alarm or a valid one, knowing what steps to take in either scenario is essential. Here's what to do before and after your burglar alarm goes off.
Make sure your contact info is updated
If your alarm system is triggered, Central Station will contact you to follow up. They must have your current contact information so they can reach you. Make a point of verifying that your contact information is up-to-date a couple of times each year. If you travel frequently, make sure you provide a phone number that is operational wherever you are in the world. 
Have your password handy
Always keep your alarm password somewhere easily accessible, as you'll need it to communicate with your security company when they respond to the alarm. They will request this password to verify that you are authorized to be in the home. If you can't provide the password, they will dispatch local authorities to follow up on the incident. 
Designate a specific spot to store your password so you're not left frantically searching for it when your alarm goes off. Make sure that everyone in your household knows the password and the password location.
Check whether it's a false alarm
In the unlikely event that your alarm is triggered, attempt to verify whether it's a false alarm or a legitimate threat. At American Alarm, we pride ourselves on our high-quality alarm systems, which are rarely falsely triggered. However, false alarms can happen. If this is the case, let the Central Station agent know that no response team is necessary. 
Even if you believe the alarm is false, the Central Station agent will request that you provide your password before they can neutralize the alert. If you're unsure whether the alarm is legitimate or false, let the agent know so they can determine the appropriate response. 
Await a response
Any time your monitored alarm system is triggered, an alert will be sent to Central Station. An operator will then analyze the alert, determine the appropriate response, and dispatch the proper team. Each operator is trained to evaluate the situation and communicate to the appropriate response team(s), including fire departments, ambulances, paramedics, police stations, and the customer, so you never have to worry about a delayed response if your alarm goes off.
Whether you're home or away, having a monitored burglar alarm is sure to offer peace of mind. With a monitored system, you can rest easy knowing that the highly trained team at Central Station is standing by and ready to dispatch the appropriate team if your alarm is triggered.
NEXT STEPS:
https://www.americanalarm.com/wp-content/uploads/2022/08/Home-alarm-system.jpg
480
720
zac
https://www.americanalarm.com/wp-content/uploads/2022/12/American-Alarm_logo_1Xr.png
zac
2022-08-11 15:30:17
2022-08-15 16:08:13
What to Do if Your Monitored Home Burglar Alarm Goes Off