Central Station: The Key to a Swift Alarm Response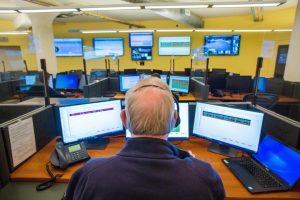 When an alarm system is triggered, a quick and effective response is essential to ensure the safety of a commercial building and its occupants. Whether the alarm is falsely triggered or the result of a true emergency, having a monitored alarm system will help you ensure that every alert receives an appropriate response.
The most critical area of communication is the life-saving link between residential or business properties and local law enforcement, fire, and emergency services.
Monitored alarm systems are routed through a Central Station, a highly secure alarm monitoring command station staffed by a team of operators. Each operator is trained to rapidly evaluate the situation and communicate to the appropriate response team(s), including fire departments, ambulances, paramedics, police stations, and the customer.
American Alarm's 24-hour Central Station is U.L. and Five Diamond Certified. Staff members are trained to analyze and respond to priority signals within an average of 20 seconds or less. 
So, if a commercial alarm system is triggered after hours, an operator from Central Station will receive a notification and dispatch the appropriate team and then notify the customer. They will then follow up with the first responders dispatched to document what occured.
Five Diamond Central Stations must have state-of-the-art communications and monitoring equipment, as well as strong working relationships with public safety organizations in their area. "It's a rigorous process, and you have to show that you measure up every year," said Maria Moretti, American Alarm's Director of Corporate Operations. "It's a strict program, but that's how it should be. When you're helping to electronically protect people's lives and property, you have to be demanding."
To ensure we can operate under any conditions, American Alarm's Central Station has triple-redundant telecommunications links and backup power systems, so our customers don't have to worry about downtime.  
In addition to dispatching emergency response teams, Central Station operators can also dispatch American Alarm's on-call service team. These technicians work to ensure commercial alarm systems are up-to-date and functioning properly. They work 24/7 to fix urgent equipment malfunctions to ensure your commercial alarm continues to meet your organization's needs.
Having your alarm system routed through a Central Station offers an additional layer of protection for all kinds of emergencies, from fire to CO2 leaks, burglary, and beyond.
NEXT STEPS:
Stay up to date on security topics such as home alarm systems, business security systems, video surveillance systems, IP video networks, remote video monitoring, fire alarm systems, and fire alarm inspections.
https://www.americanalarm.com/wp-content/uploads/2022/06/American-Alarm-Central-Station-v2.jpg
480
720
zac
https://www.americanalarm.com/wp-content/uploads/2022/12/American-Alarm_logo_1Xr.png
zac
2022-06-23 14:43:05
2022-06-23 14:43:57
Central Station: The Key to a Swift Alarm Response