Top Security Concerns for Biotech Startups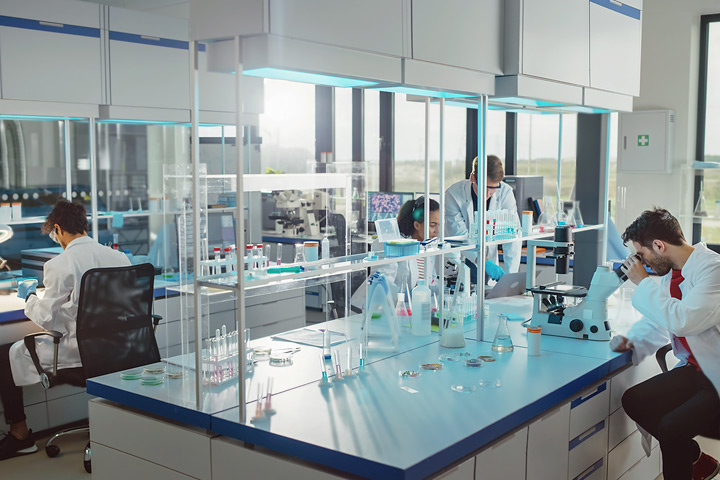 Biotech startups require security solutions for securing their facilities, protecting equipment, intellectual property, and employee safety. They must also find solutions for effectively managing employee access, creating audit trails, ensuring environmental stability, and facilitating communication across restricted areas of a facility. Let's take a closer look at the top security challenges for biotech startups and how an experienced security partner can help manage them.

Basic Premise Alarms
A basic premise alarm (or burglar alarm) is essential for protecting Biotech facilities after hours. These facilities house expensive equipment and often have specific environmental requirements that must be maintained to keep the contents of a laboratory safe.
With a burglar alarm in place, Central Station will be immediately alerted to suspicious activity or attempted break-ins and notify the proper authorities and facility managers. Integrating features like glass-break sensors and security cameras are powerful ways to augment a basic alarm system, making it easier to identify attempted break-ins or acts of vandalism.
Access Control
Biotech organizations rely on access control systems to create audit trails and track employee movement throughout the facility. These systems make it simple to see who has entered secure areas such as labs or IT rooms at any given time.
Access controls can be customized to suit the needs of each organization. Each employee can be assigned a unique access ID and permissions can be set, revoked, or adjusted via an online, remote interface. Employees can swipe in and out of secure areas using a card reader or a mobile credential. There are even options for hands-free credential scanning for instances when employees must move between zones while carrying product.
Integrating access control with a video surveillance system enables facility managers to verify who entered each area of a facility at any given time and whether they were accompanied.
Communication Interface
Because biotech companies often have restricted areas, a communication system is essential within the facility. Depending on the area, employees may not be permitted to enter with their phones, meaning alternative communication methods are needed.
Intercom systems make it easy for employees to communicate with colleagues or visitors who are not permitted to access restricted areas, such as clean rooms or labs.
Communication systems may be placed near the doors of restricted rooms or at specific work stations. Integrating loudspeakers throughout the facility ensures announcements or alarms can be heard by employees in every area of the building.
Environmental Monitoring
With an environmental monitoring system in place, alarms will be triggered signalling employees to evacuate if hazardous gases or other toxic substances are detected. The system will also warn of climate fluctuations that could damage servers, equipment, or lab materials, including floods or drastic temperature changes.
Server Room Protection
Biotechnology startups must ensure that server rooms are environmentally stable and secure from tampering by unauthorized personnel. Access control, environmental monitoring, and video surveillance are key for protecting biotech server rooms. Environmental systems will send alerts if the conditions of the room fall outside of the optimal range. Meanwhile, access control and video surveillance make it easy to monitor exactly who enters the server room at any given time.
The Bottom Line
Because biotech companies have such a diverse range of security needs, selecting an experienced security partner is key for ensuring a successful implementation. The American Alarm team has the industry experience and the bandwidth to support and augment security infrastructure for biotechnology startups. Whether your organization requires a single-site install or multi-location support, our team can accommodate your needs.
NEXT STEPS:
https://www.americanalarm.com/wp-content/uploads/2023/06/biotech_startups.jpg
480
720
alarmadmin
https://www.americanalarm.com/wp-content/uploads/2022/12/American-Alarm_logo_1Xr.png
alarmadmin
2023-07-06 08:13:53
2023-06-29 17:14:28
Top Security Concerns for Biotech Startups