Summer Vacation Safety Tips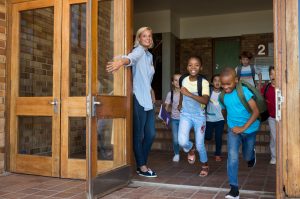 School's out! Children will most likely be spending a lot more time in or around the house, which may require leaving them home alone.
This is worth thinking about in advance. In terms of the law, each New England state has its own rules about the minimum age a child can be left alone.
It's Up to Parents
Maine, Massachusetts, Vermont and Connecticut have no specific home-alone legal age minimum, while Rhode Island's requirements are somewhat unclear. It's ultimately up to parents to determine how much freedom they give their children.
Clearly, this requires common sense and understanding the relative maturity of each child. But as an extra measure, before considering leaving children alone, parents can prepare them with basic precautions — including electronic safety and surveillance solutions.
Protecting the Home-Alone Child
We have compiled a list of safety recommendations derived from a prior blog from this site, as well as other sources, including a West Roxbury Patch piece.
Tell the child not to open the door to strangers — and keep the door locked.

Create an emergency plan (hopefully never needed) with actions to take and numbers to call, such as 911, and your cell phone or office.

Instruct the child not to cook alone and if they're older, make it clear just where the fire extinguisher is and ensure that it is up to date.

Have a designated "trusted neighbor" they can go to or call as needed.

Set up a "safe zone" where your child can go outdoors — and be clear about the boundaries.

Make sure your child doesn't announce that he or she is alone on social media — or to anyone calling the house.

Over time, you might also consider calling in at regular intervals — perhaps every half hour at first — then each hour as you and your child become more confident, and so on.
For that extra layer of protection, also consider deploying home surveillance solutions with high resolution cameras. This way, you can monitor your house via your cell phone and receive alerts in case of intruders or environmental problems. You can be assured knowing your child is never completely home alone this summer.
NEXT STEPS:
https://www.americanalarm.com/wp-content/uploads/2022/12/American-Alarm_logo_1Xr.png
0
0
American Alarm Blogging Team
https://www.americanalarm.com/wp-content/uploads/2022/12/American-Alarm_logo_1Xr.png
American Alarm Blogging Team
2019-06-26 10:05:32
2019-08-13 15:52:35
Summer Vacation Safety Tips