Stay Safe While Traveling This Thanksgiving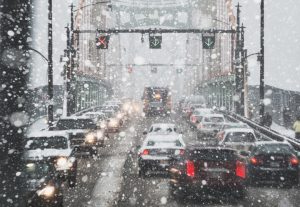 Thanksgiving weekend is one of the biggest travel weekends of the year, and driving is typically the most popular method of travel. In 2021, AAA predicted 48.3 million people would travel by car over the holiday weekend. A year later, there are even fewer restrictions, and folks are even more eager to visit family and friends, so it's safe to expect even more travelers on the nation's highways.
Thanksgiving weekend is typically one of the biggest days of the year for automobile accidents, so safety should be top of mind if you're hitting the road for the holiday. 
These travel tips will help you stay safe this Thanksgiving. 
Prep your vehicle
The last thing you need on a road trip is car trouble. Before your Thanksgiving trip, ensure your vehicle is in sound condition. Check your tire pressure and top up your fluids a day or so before you leave. Ensure you have a spare tire kit and an emergency kit in the trunk. A winter emergency kit should include a flashlight and a warm blanket in case you break down. 
Consider the weather
Check the weather report and the road conditions before heading out of town. Depending on the forecast, you may want to adjust your trip schedule by a few hours to avoid blizzards, rain showers, or other difficult conditions. 
Travel early to avoid congestion
If you have the flexibility to travel outside of peak rush hours, take advantage of it. Fewer cars on the road makes traffic accidents less likely and your trip more efficient. If you can't leave work early, wait a few hours for traffic to die down before hitting the road. The same is true at the end of the weekend, and leaving before the afternoon rush will help you beat the congestion and hazards it brings. 
Be aware of inebriated drivers
Holiday festivities inevitably mean more impaired drivers on the road than usual. Coupled with an increase in traffic, this only makes accidents more likely. Driving early in the day will help you avoid inebriated drivers, but sometimes your schedule won't allow it. If you suspect someone is driving impaired, call 911 and provide a license plate number or a vehicle description to help keep the roads safe for others. 
Get some rest before driving
It may be tempting to rush out of town on Wednesday evening after work to squeeze in more time with your loved ones, but driving at night, after a long day at work, only puts you at risk of an accident. Shaving a half-day off your trip for a good night's sleep is a much safer way to travel. The same goes for your return trip. Leaving earlier in the day on Sunday will ensure you're feeling fresh and alert while driving. If you hit traffic or bad weather on your way home, you'll have a time buffer, so you aren't racing against the clock to make it to work the next day.
Secure your home
Before you head out of town for Thanksgiving weekend, don't forget to secure your home. Leaving lights on timers in your living room is a great way to deter burglars by creating the impression that someone is home. You can always check in on your home through your video surveillance system to ensure everything is as you left it.  
After the events of the past few years, it's no doubt that spending time with your loved ones is a big priority. Preparing and planning your Thanksgiving trip will ensure you make it to and from your destination safe and sound.
NEXT STEPS:
https://www.americanalarm.com/wp-content/uploads/2022/11/Traffic.jpg
497
720
zac
https://www.americanalarm.com/wp-content/uploads/2022/12/American-Alarm_logo_1Xr.png
zac
2022-11-21 10:59:22
2022-11-21 10:59:22
Stay Safe While Traveling This Thanksgiving