How to Prepare Your Home for the Winter Months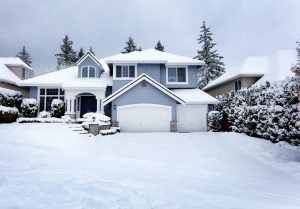 Burglaries are a threat all year, but studies show a spike in home invasions during wintertime. Beyond break-ins, the holidays bring the added risk of stolen packages. Roughly one third of Americans are victims of parcel theft each year, and that number spikes significantly during the holidays.
Combine harsh winter weather with an increase in theft, and you have two good reasons to secure your home this year. Let's take a look at some important actions you can take to keep you, your family, and your home safe this winter season.
Replace Any Outdoor Burnt Out Light Bulbs
Areas of darkness around your home provide the perfect cover for burglars. Check your bulbs to make sure they are still working properly, and replace any dead bulbs before the snow season officially hits – you don't want to be dealing with a ladder during icy weather.
Add Motion Sensors and Video Surveillance
If you do choose to keep your outdoor lights off during the night, make sure they are motion activated. Along with well-placed video surveillance cameras, you'll be able to capture the potential home invader on video – and perhaps scare them off in the process.
Trim Your Trees
Not only do heavy, unruly tree limbs create an obstructed view for your surveillance system, they can become a safety hazard once the snow starts to fall. Brittle tree limbs covered with hard-packed snow and ice can easily break and fall on your roof, cars, or other parts of your property. Trim back your trees early in the winter season to avoid unnecessary damage. 
Insulate, Clean, and Clear
Use insulation on any exposed pipes, especially in cold-prone places like your crawlspace and attic, and seal off any cracks or holes around your windows. Clean out your gutters to avoid water backups that can leak into your home. Rid your roof of any debris that will hold water after a heavy rain or snowfall. When the snow does come, keep your walkway and driveway well-shoveled and salted to reduce the risk of slipping and falling. 
Invest in a Monitored Home Security System
A burglar alarm system is essential to keep your home safe and protected in wintertime and all year round. Choose a high-quality system with a short response time that will also integrate with your lights, locks, and thermostat to give you ultimate control while at home or away.
NEXT STEPS:
Contact us today to learn more about protecting your home this winter.
Stay up to date on security topics such as home alarm systems, business security systems, video surveillance systems, IP video networks, remote video monitoring, fire alarm systems, and fire alarm inspections.
https://www.americanalarm.com/wp-content/uploads/2020/10/iStock-1128762152.jpg
854
1227
zac
https://www.americanalarm.com/wp-content/uploads/2022/12/American-Alarm_logo_1Xr.png
zac
2020-10-29 16:47:58
2020-10-29 16:48:10
How to Prepare Your Home for the Winter Months