Scam Calls: How to Spot and Avoid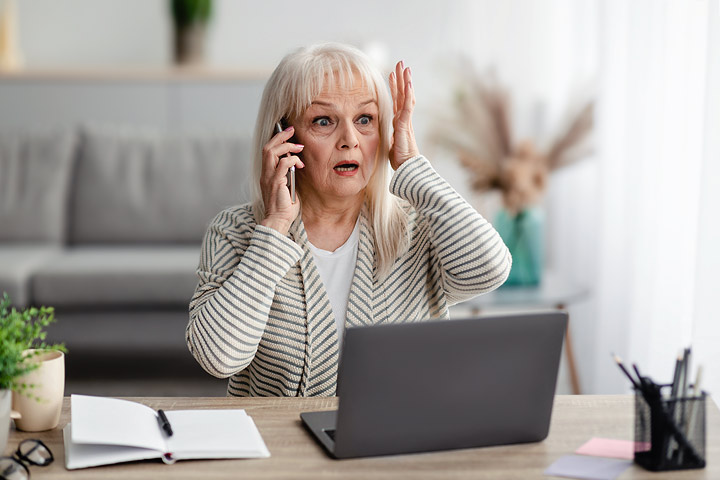 Scam calls are a prolific issue within the United States. In 2021, nearly 60 million Americans fell victim to scam calls, resulting in $9.8 Billion in losses. But scam callers aren't always after money directly; they often seek personal information, which they will use for nefarious purposes.
Scam callers may attempt to impersonate your cable company, the IRS, your insurance provider, and even your security company to extract personal information.

Recently, an American Alarm Central Station operator received a customer report that they had been contacted by someone claiming to be an alarm company.
Fortunately, this savvy customer knew better than to reveal their personal information and instead hung up and reported the call to our team.
In light of this incident, we wanted to share some strategies you can use to identify and handle suspicious calls, particularly concerning your home security system.
American Alarm's Communication Practices
If you receive a call claiming to be your security company, remember the following points to help determine whether the call is legitimate.
American Alarm calls may not always appear as "American Alarm" on a caller ID system as various Caller ID services use different formatting. There are two phone numbers that may present when someone from our security command center calls in response to your alarm. Enter these into the contacts directory on your phone. These numbers are 781-859-2700 or 781-641-2000 and should be labeled "American Alarm."
American Alarm operators will always identify themselves using "Central Station" and their first name.
While we do request a passcode in response to an alarm, if the alarm is not active, feel free to decline to offer a passcode but be sure to call us back right away at 781-859-2700 to confirm.
If you feel your system password has been compromised, call us immediately.
If you receive a suspicious call concerning your alarm system, capture the caller ID along with the date and time. Call and speak with an operator at either of the above numbers. We will always investigate!
Take care when arming and disarming your system. Remember to confirm your alarm system's status to help reduce false alarms.
What to do if you suspect a call is fraudulent
Scammers are becoming increasingly adept at mimicking realistic scenarios, so it may be challenging to determine the legitimacy of a call.
Some common signs of a fraud caller include:
Claiming to be from a government agency, such as the IRS or the Social Security Administration.
Saying you owe money or you're in trouble with the law.
Requesting personal information, such as your Social Security number, credit card, or bank account number.
Pressuring you to act quickly or to pay money immediately.
If you receive a call like this, don't provide any personal information. Instead, hang up and contact the agency or business directly to verify the claims the caller made. If a call is fraudulent, report it to the Federal Trade Commission (FTC) to protect others from scammers. You can file a report online at ftc.gov/complaint.
NEXT STEPS:
https://www.americanalarm.com/wp-content/uploads/2023/05/stop_and_avoid.jpg
480
720
alarmadmin
https://www.americanalarm.com/wp-content/uploads/2022/12/American-Alarm_logo_1Xr.png
alarmadmin
2023-06-01 08:31:58
2023-05-25 11:52:16
Scam Calls: How to Spot and Avoid