Door Knocking Scams: How to Spot and Avoid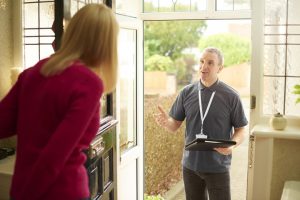 Door-to-door sales, charity, and survey solicitations are surprisingly common, even in the digital age. While most individuals who come to your home requesting donations or selling services are genuine, there are scam artists who take advantage of this practice to solicit personal information and money from homeowners. Here's what to know about door-knock scams and how you can protect yourself from unwanted or fraudulent solicitors.
Common door-knock scams
There are several types of door-to-door scams, many of which involve an individual posing as a salesperson, service provider, or political canvasser. An individual may claim to work for a telecommunications company and offer some sort of equipment upgrade in exchange for a small fee. Or, they may request that you fill out a survey that asks for unnecessary personal details. 
Signs of a scam
Typically, the object of door-knock scams is to collect either money or personal information to facilitate identity theft. If a solicitor requests your banking information, social security number, or electronic signature, these are red flags. Never provide this information to a stranger as they could use it to commit identity theft.  
Remember, you are under no obligation to provide any personal information. If the information they are requesting seems unnecessary simply refuse and excuse yourself. 
How to evade potential scammers at the door
Never allow anyone entry to your home without a prior appointment. If the solicitor is insistent, tell them it's not a good time and ask that they call to arrange an appointment later in the week. If a solicitor requests money, tell them you'd prefer to think about it and make the donation or purchase online once you've had time to review the offer.
If you're sensing a fraudster, request additional information as well as their identification. A legitimate salesperson will have no problem providing ID and additional resources so you can learn more about their offer, whether via a printed pamphlet or a website address. A genuine salesperson will also be happy to provide a phone number for you to contact them with any questions. 
Remember the "Cooling-Off Rule"
The FTC has a Cooling-Off Rule in place that gives you the right to request a refund for certain purchases over $25 that were made at your home. If you have second thoughts after committing to a donation or purchase you make at your door, the rule likely applies. 
If you later suspect that the solicitor at your door was engaging in fraudulent activity, report it to the FTC as well as your local consumer protection agency.   
Use a home security camera
Refusing to open the door to anyone you don't know is the best way to avoid door-knocking scams. A home video surveillance system allows you to see who is at your front door before opening it. 
With one of these systems in place, you can easily verify the identity of anyone who shows up at your home unexpectedly. This way, you avoid any awkward exchanges and have peace of mind knowing you're not opening your door to strangers.  
Door-knocking scams are an unfortunate reality, but now that you're aware of them, you can use these simple tips to avoid engaging with potential fraudsters.
NEXT STEPS:
Stay up to date on security topics such as home alarm systems, business security systems, video surveillance systems, IP video networks, remote video monitoring, fire alarm systems, and fire alarm inspections.
https://www.americanalarm.com/wp-content/uploads/2021/12/Salesperson.jpg
480
720
zac
https://www.americanalarm.com/wp-content/uploads/2022/12/American-Alarm_logo_1Xr.png
zac
2022-04-07 13:52:36
2022-04-07 13:52:36
Door Knocking Scams: How to Spot and Avoid