Restaurant Safety Tips for Winter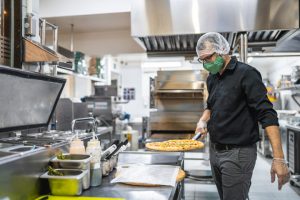 Dining out during the winter months is one of the joys of the season. Unfortunately, winter poses some safety challenges that need to be addressed to keep both diners and employees safe. Between cramped workspaces, open flames, packed dining rooms, and winter weather, there are some potential safety hazards to address.
These safety tips provide guidance for how restaurants can keep employees and customers safe during the winter months:
Control slippery surfaces
With the cold temperatures comes the threat of wintery weather, such as snow, sleet, and ice. This can create slippery conditions outside the restaurant and also inside as people track in dirt and snow. To prevent accidents, clear the outside parking lot and outside walkways of snow and ice so that customers can make it inside safely. Lay out no-slip mats in high traffic areas, such as the kitchen, dining room, and entryway, to prevent accidents once people get inside.  
Minimize fire hazards
With the cold weather comes an increase in fire hazards, such as open flames from lit candles. As great as they look, these candles are also fire hazards. The open flames from gas stoves also pose a fire risk, as do handheld torches that kitchens often use to caramelize certain dishes. Since it might not be realistic to stop using these items, the next best choice is to follow safety protocols that can minimize risks or handle fires if they do occur.
Employees should go through fire safety training, since it is their clear thinking that is needed if there is a fire emergency. You'll also want to ensure that fire extinguishers are functioning and are easily accessed from key areas. Fire extinguishers have an expiration date and if any of them have elapsed, replace them. Also, test your establishment's fire alarms on a regular basis to be sure that they will work in case of an emergency. Your commercial security partner should offer regular, testing, service, and inspection for your fire alarm system. 
Service the kitchen exhaust system
According to the NFPA, most fires that occur in restaurants take place in the kitchen, and the kitchen exhaust system is designed to help mitigate this threat. If the system needs to be cleaned and is filled with grease, it can cause kitchen fires. This is a preventable hazard, as long as you have the system cleaned on a regular schedule. This includes the exhaust hoods, which are especially prone to developing greasy buildup over time. It is recommended to have the system cleaned once every six months, or more often if your kitchen is highly trafficked.
People want to feel safe while dining at your restaurant. Taking these extra steps will give both your customers and employees peace of mind that they will be safe while there.
NEXT STEPS:
Stay up to date on security topics such as home alarm systems, business security systems, video surveillance systems, IP video networks, remote video monitoring, fire alarm systems, and fire alarm inspections.
https://www.americanalarm.com/wp-content/uploads/2022/11/Kitchen.jpg
480
720
zac
https://www.americanalarm.com/wp-content/uploads/2022/12/American-Alarm_logo_1Xr.png
zac
2022-12-02 08:59:46
2022-12-02 08:59:46
Restaurant Safety Tips for Winter