Blackouts Are a Risk This Winter – Is Your Business Ready?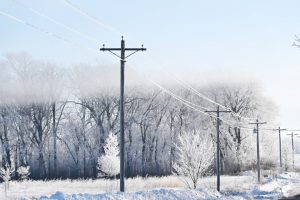 The ongoing conflict between Russia and Ukraine has resulted in Russia halting its pipeline gas supply to most of Europe, leaving a gap in the fuel supply. New England, which relies on liquified natural gas (LNG) for electricity, must now compete against European countries for fuel.
ISO New England Inc. advises that a prolonged cold spell this winter will put the region at risk for blackouts as the demand on the grid may be more than it can bear. ISO warns that these blackouts may be necessary to curb the supply and demand imbalance.
According to Ready.gov, power outages result in billions of dollars of losses for Massachusetts businesses each year. Preparing for a blackout is key to protecting your business, employees, and bottom line. Here's what to consider.
Invest in emergency backup power resources
Emergency power backups ensure your organization can operate and provide essential services during a blackout. Generators and batteries can be a significant up-front investment, but keeping your business operational during a blackout may bring in enough revenue to offset the expense.
Have a blackout protocol
Every business should have a strategy that accounts for how the blackout will affect business operations.
Do you have a backup power supply? 

Can your business operate if the phone or internet is down? Can you find a workaround?

Will your products be affected if your environmental control systems are down? How can you protect your inventory?

How can you streamline operations to reduce your reliance on power?

What needs to be done to ensure your facility is safe during an outage?
Your protocol will vary depending on the nature and size of your business. Asking employees to work from home would reduce the demand on your backup power source if you have one. If you don't, this may enable your business to continue operating if some employees still have power at home.
Reducing your daily hours is another way to lower your power usage while keeping your business open during a blackout. Plan to remain open on your busiest days or during peak hours to maximize your revenue. 
Test your emergency backup power sources
If you have emergency backup power, test them to make sure they function as they should. Evaluate your fuel supply and stockpile more fuel or batteries if you can. Calculate how long you can continue to operate using your backup power supply, and look for ways to optimize your power draws so you can get more time out of your backups.
You are probably wondering, how long will the back-up battery to your alarm system work during a blackout? American Alarm security alarm panels have backup batteries, which enable them to continue working during a power failure. These backup batteries can last 12 to 24 hours, depending on the specifics and the complexity of your system. 
Prepare an emergency kit
Stocking an emergency kit is essential, especially during the winter. You may need to stock multiple kits if you have a large organization. An emergency kit should include the following:
First aid kit

Flashlights

Extra batteries

Non-perishable food items (granola bars, etc.)

Water

Blankets
Have a security plan
Ensure your business' security system has a backup power supply and will continue functioning if the power goes out. Check that your alarm systems have backup communications so a blackout won't prevent your alarm signals from going through. This way, your organization and any on-site employees will be protected no matter what happens.
NEXT STEPS:
Stay up to date on security topics such as home alarm systems, business security systems, video surveillance systems, IP video networks, remote video monitoring, fire alarm systems, and fire alarm inspections.
https://www.americanalarm.com/wp-content/uploads/2022/11/Power-lines-in-winter.jpg
480
720
zac
https://www.americanalarm.com/wp-content/uploads/2022/12/American-Alarm_logo_1Xr.png
zac
2022-11-17 10:09:48
2022-11-17 10:09:48
Blackouts Are a Risk This Winter – Is Your Business Ready?