Online Database Helps Cambridge Police, Residents Track Crime
Recent technology allows police departments to respond to crime more efficiently and alerts residents more effectively.  
The Cambridge Police Department, for example, offers an online crime map that displays and analyzes crime data, informs Cambridge citizens about crimes in their area, and allows police to quickly alert the public about crimes as they occur.
If you live in another city or town, you can access the national crime data map and apply filters to the data to view only the information that matters to you most here. The easy-to-use interactive map includes a number of filters that allow you to focus on a specific area, type of crime or date range.
Crime mapping increases transparency, reassurance, and awareness of neighborhood crimes. This gives both the police and the public more detailed information regarding which areas are safest and which need to be more heavily patrolled. The public can even provide anonymous tips online to help solve a particular crime.  
"Community Crime Map goes beyond crime mapping by automatically alerting the public about recent crime activity and by improving communication between the public and law enforcement through anonymous tips," according to LexisNexis. "Community Crime Map empowers the public to make better decisions about crime by putting the same technology used by law enforcement to analyze and interpret crime activity into the hands of the public."
For example, here's a map of the commercial and residential robberies and burglaries in Cambridge in the last eight months combined.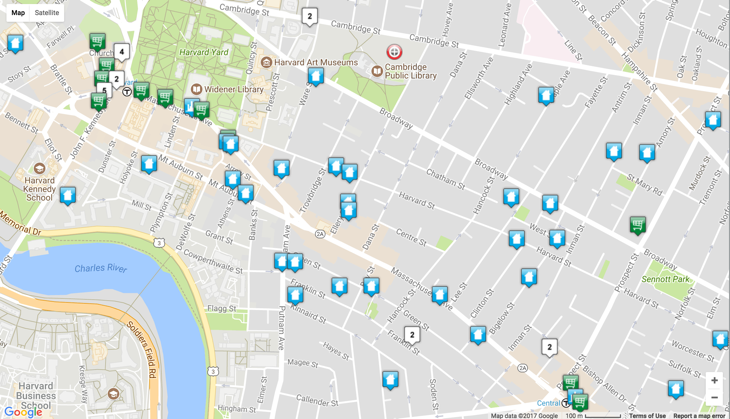 Clicking on an icon in the interactive map will provide additional information about that particular event. Notice the section where someone can submit an anonymous tip.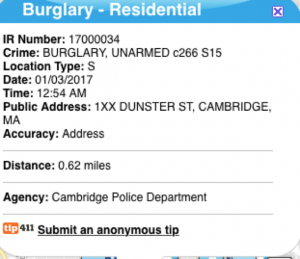 Understanding when certain crimes take place helps police determine whether to increase patrols on days and times with higher crime rates. This can also be a good way for security firms to remind residential and business customers about arming their security systems and the importance of being extra vigilant.
NEXT STEPS:
https://www.americanalarm.com/wp-content/uploads/2022/12/American-Alarm_logo_1Xr.png
0
0
American Alarm Blogging Team
https://www.americanalarm.com/wp-content/uploads/2022/12/American-Alarm_logo_1Xr.png
American Alarm Blogging Team
2017-08-30 10:25:04
2018-10-05 10:30:32
Online Database Helps Cambridge Police, Residents Track Crime