Never Let Hurricane Season Catch You Unprepared
September marks the peak of hurricane season, a time when New England property is at risk, even without a direct hit.  Unfortunately, as this past season demonstrated, despite all the computers, instruments and software models, it's impossible to make exact storm strike predictions.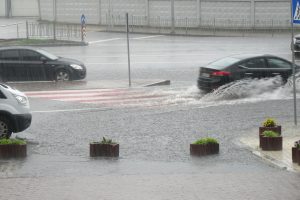 Just last month, the tail end of Hurricane Florence was still strong enough to pummel New England — particularly coastal Massachusetts — as noted by a Boston Globe article. Florence brought a "deluge" of rain that flooded sections of the state, causing road closures and power outages. It hit the town of Saugus especially hard — hammering the area with winds exceeding 70 miles per hour and leaving a "mile-long path of destruction."
Flooding a Seasonal Risk
Florence dropped a downpour so severe that the lobby of the Lahey Clinic in Peabody flooded, reports NECN. One Lynn homeowner was actually fixing his basement foundation from the the last major storm when Florence struck. While working, dirty water from the street started seeping into his basement and added to the existing water, he says.
The hurricane also flooded sections of Southern New England. The storm dumped 4.46 inches of rain on Cranston, Rhode Island alone, forcing some residents to evacuate their apartments, according to the Providence Journal.
Prepare with Smart Tech and Services
Hurricane season flooding can quickly cause thousands of dollars in damage. Naturally, property owners should weatherproof their homes and businesses, and take other necessary precautions, such as creating escape plans.
To go a step further, consider installing sensors and surveillance systems that detect such things as rapid indoor environmental changes, including the presence of water. Subscribe to monitoring services that can immediately alert property owners to flooding, dangerous temperature changes and other hazards, providing the opportunity to address such problems before they cause real damage.
Headquartered here in New England, American Alarm provides these flood detection and other environmental hazard services. American Alarm pros both install the surveillance/detection solutions and provide reliable 24/7 monitoring services.
Talk to us today about what we can do to help you protect your home or business during New England's hurricane season.
Next Steps
https://www.americanalarm.com/wp-content/uploads/2022/12/American-Alarm_logo_1Xr.png
0
0
American Alarm Blogging Team
https://www.americanalarm.com/wp-content/uploads/2022/12/American-Alarm_logo_1Xr.png
American Alarm Blogging Team
2018-10-24 16:06:30
2018-10-24 16:06:31
Never Let Hurricane Season Catch You Unprepared