Mobile Security System Apps Offer Remote Peace of Mind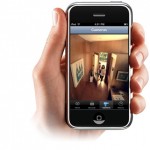 It's become a common refrain among smartphone users: "There's an app for that."
Modern home and business security systems are at the forefront of mobile app accessibility, enabling individuals to monitor the statuses of those systems from a distance as well as interact with their alarm systems should the need arise. Thanks to mobile app technology such as the Z-Wave digital monitoring system offered by American Alarm, there are a long list of available features that let individuals stay in touch with their security systems as long as they have cell signals.
What kinds of uses do mobile apps have when it comes to interacting with your fire alarm or burglar alarm system? One of the most useful features that a mobile security app can provide is notifying you of any activity taking place in or near a particular property.
Whether it's a tripped alarm, an open window, or a text message (text notification does not need smartphone app to work) letting you know that your child has come home from school and entered in his or her alarm passcode, you can keep tabs on what's going on at home or at work without having to make regular phone calls or swing by the building.
This communication between you and your alarm system can go both ways, too. You can use a mobile security application to arm your alarm system from a distance, or turn off an accidentally-triggered alarm. You can also view remote video monitoring over IP from cameras installed in your home or office via your phone, which is great for doing quick spot checks on kids or employees.
Moving past standard burglar and fire alarms, mobile apps also offer advanced home and office automation services that can put you in complete control of your property remotely. Wireless apps are available that can lock and unlock doors, turn lights on or off and even let you adjust your thermostat settings from your smartphone. It's even possible to install modules for specific electrical outlets that provide you with similar control over appliances and other devices.
Mobile security applications offer the kinds of versatile access control, notification and remote automation services that were previously the stuff of science fiction. It's well worth investigating the benefits of this type of technology for busy families on the go as well as company owners looking for increased efficiency from their current business security systems.
https://www.americanalarm.com/wp-content/uploads/2022/12/American-Alarm_logo_1Xr.png
0
0
American Alarm Blogging Team
https://www.americanalarm.com/wp-content/uploads/2022/12/American-Alarm_logo_1Xr.png
American Alarm Blogging Team
2012-06-06 08:55:24
2012-06-06 08:55:24
Mobile Security System Apps Offer Remote Peace of Mind