Keep Your Home Safe from Carbon Monoxide
Winter is here, and we've already weathered our first big snowstorm of the season. Now, as temperatures keep dropping and the weather becomes more inclement, we New Englanders will be spending more and more time indoors.
This also means we need to be doubly on the alert about carbon monoxide — the "silent killer." As this blog has noted previously, carbon monoxide (CO) is a colorless and odorless gas. It leaks from common heating and lighting sources, like faulty furnaces, portable generators, stoves, lanterns and gas ranges.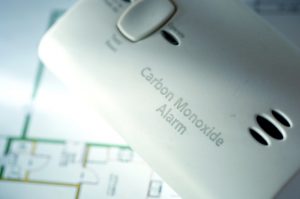 Carbon Monoxide Risks
According to the United States Centers for Disease Control, anyone can become a CO victim, but the most vulnerable include infants, the elderly, and those with chronic heart disease, anemia or respiratory problems. More than 400 Americans die annually from accidental CO poisoning (unconnected from fires). The odorless gas causes some 20,000 visits to the emergency room, and 4,000 hospitalizations, each year.
The CO dangers here in New England are real. Just this month, a malfunctioning heating system in Hanover, Massachusetts, resulted in CO leakage, according to The Boston Globe. Residents initially detected an unusual smell in the early morning hours of December 2, and they called the fire department.
The deputy chief stated the residents erroneously thought the odor was from an electric stove. "When they investigated a little further, the CO meters that we carry started going off, and they found that the heating system had malfunctioned, causing high levels of carbon monoxide."
Last November, a CO alarm in a Lowell, Massachusetts, triple-decker apartment building detected the presence of the gas and issued an alert. According to a CBS Boston report, 10 residents were sound asleep in the middle of the night as the "deadly gas filled their homes." The Lowell fire department believed the CO detector inside the home "likely saved lives."
Protect Against CO
Luckily, there is plenty we can do this winter to protect ourselves and our loved ones from the silent killer. One of the most effective things you can do is select a reliable CO alarm. You must also maintain these systems regularly and create action plans to escape in case of emergency. For example, according to city of Boston regulations, after the initial CO alarm installation, you must:
Also be sure you have regular, operational smoke alarms

Test both the CO detectors and smoke alarms regularly

Make sure you can tell the difference between the sound of a smoke alarm and a CO alarm

Create an emergency escape plan

Practice the plan with all household members twice annually
For extra security, you should also consider hiring a proven vendor to install a complete environmental detection system, with associated monitoring services. That will make the winter pass with even greater peace of mind.
Next Steps
https://www.americanalarm.com/wp-content/uploads/2022/12/American-Alarm_logo_1Xr.png
0
0
American Alarm Blogging Team
https://www.americanalarm.com/wp-content/uploads/2022/12/American-Alarm_logo_1Xr.png
American Alarm Blogging Team
2019-12-05 13:00:57
2020-01-10 15:23:38
Keep Your Home Safe from Carbon Monoxide