How to Protect Your Home Security System from Door Knockers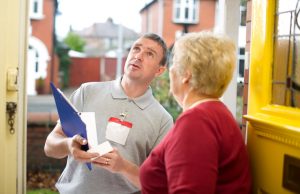 This past winter we warned you about holiday packages stolen from doorsteps. Today we're posting another doorstep crime that happens when those cold temperatures begin to rise. During the spring and summer months, dishonest scam artists, known as "Door Knockers", go door-to-door selling fake home security systems. How do they do it? They'll sound credible, mislead you and then pressure you into signing their binding contract. The pitch sounds something like this: 
"Hello, I'm from Acme Alarm Systems. Did you know American Alarm is bankrupt? As a courtesy to you, they asked me to void your old contract and present a new one. But you must sign now to maintain your services."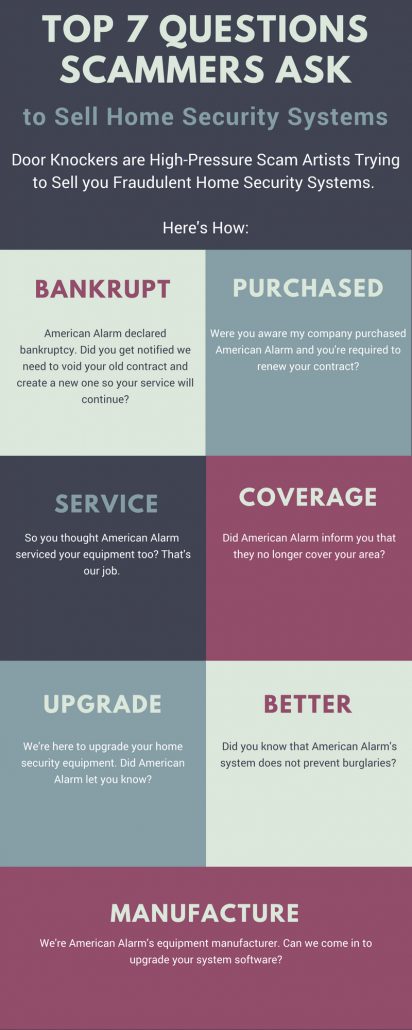 This is a classic "slamming" scam. It relies on high-pressure tactics to confuse you — and then pressure you into signing a new contract. The result: You get double billed and face a huge hassle to exit that bogus contract you just signed. 
So how can you tell the difference between a legitimate security proposition and an outright scam? We have put together some self-protection tips:
Don't do business with door-to-door salespeople. Take printed literature, review the materials, and if you're interested, call the number.

Perform

due diligence — including calling the Better Business Bureau.

Ignore high-pressure tactics that use phrases like: "for a limited time only" or "our technicians are right outside and ready to install." Reputable companies are patient, will allow you to compare various rival products, and will allow for multiple bids. 

Get all procedures in writing. Often, disreputable companies lowball you on standard installation prices. Then they charge huge fees for useless follow-up services, billing for false alarms. 

Consult your

home insurance underwriter. You

're probably eligible for an

insurance discount from select home alarm providers. These home security firms are, simply, better than their competitors. That's why you get a discount. No discount? Think long and hard about whether or not you're getting what you pay for.
In Massachusetts and many other states, it's illegal to install life safety equipment without a license. Someone offering you these systems during a door- to-door sale pitch may actually be verging on the commission of several felonies. Suspicious? Call the local police and the state attorney general. You can protect other people from becoming victims.
Next Steps
https://www.americanalarm.com/wp-content/uploads/2022/12/American-Alarm_logo_1Xr.png
0
0
American Alarm Blogging Team
https://www.americanalarm.com/wp-content/uploads/2022/12/American-Alarm_logo_1Xr.png
American Alarm Blogging Team
2018-05-24 20:04:41
2018-05-31 16:54:34
How to Protect Your Home Security System from Door Knockers