How to Protect Your Home Deliveries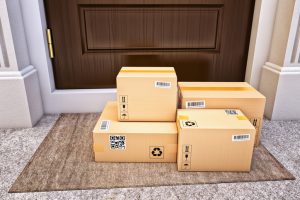 Among its other effects, COVID-19 is fueling the growth of online retail purchasing in New England. This means more deliveries of goods to the home, which in turn creates more opportunities for parcel thieves.
Criminals can just grab a package from the doorstep in broad daylight and vanish, without needing to break in. To combat this threat, online customers can leverage proven surveillance and high-tech solutions to catch or frustrate these criminals.
New England Delivery Theft Threat
Delivery theft statistics are sobering. Thieves rob some 11 million U.S. victims annually, according to a February ZDNet article. The numbers average out to 2.6 packages per victim, with each package worth some $140. About 22 percent of the time (pre-COVID-19), the robbers even stole packages from houses when the owner was actually home. The article notes that package thieves tend to prey mostly in large cities like the Greater Boston area.
The threat continues to grow, especially with Amazon prime day around the corner (October 13-14). As this blog has noted, the upcoming holiday season is prime time for package thieves.
Year-Round Risk
Even without the holidays, the threat of package theft is constant. A thief stole one woman's Amazon package just last month in Springfield, Massachusetts, according to a local news media article. 
The culprit took the package, placed it under his shirt, and rode away on a bicycle. Luckily, the victim's doorbell camera recorded the act. According to the article, such recordings have recently helped the Springfield police capture several local culprits.
"The video is starting to help us out immensely and we use it in a lot of cases," the Springfield police commissioner was quoted as saying. "Especially in a case like this, those Ring videos are very clear and very helpful. Home surveillance cameras are getting better all the time so just let us know [you have video recordings]."
Just the presence of home surveillance cameras can deter thieves who will try to find less risky pickings.
How to Protect Deliveries
Here are several steps to protect your doorstep from parcel thieves (drawn from the above-listed sources). 
Tell the delivery driver to hide the package in a pre-arranged spot

Procure a parcel locker/anti-theft package box

If it's an Amazon delivery, send the package  directly to your car with Amazon Key.

Track the package as precisely as possible so you can be assured of securing it immediately after delivery

Work with neighbors to form a community package-watch group
You can take security a step further and install a doorbell or motion-activated front door surveillance camera. Such a system can not only help apprehend thieves after the fact, but it can discourage them from stealing in the first place. This way, you can shop online and have one less worry about receiving your packages.
NEXT STEPS:
Contact us today to learn more about protecting your business or home.
Stay up to date on security topics such as home alarm systems, business security systems, video surveillance systems, IP video networks, remote video monitoring, fire alarm systems, and fire alarm inspections.
https://www.americanalarm.com/wp-content/uploads/2020/09/iStock-1167766111.jpg
483
724
zac
https://www.americanalarm.com/wp-content/uploads/2022/12/American-Alarm_logo_1Xr.png
zac
2020-10-01 10:24:37
2020-10-01 10:24:46
How to Protect Your Home Deliveries