Holiday Safety Includes Protecting Gifts
'Tis the season for giving. For a small group of criminals, it's also the time of taking — especially unattended packages left on front steps by Amazon and other delivery drivers. With the proliferation of online retail shopping, more and more gifts wind up on the front porch awaiting their recipients.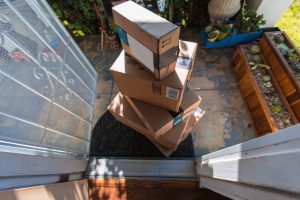 These vulnerable packages attract thieves looking to make a fast score. According to a recent survey, in the suburbs just north of Boston, 19 percent of 1,048 respondents said they'd had a package stolen.
Just this month, police arrested a "porch pirate" in Malden, Massachusetts, says a CBS article. One of the pirate's victims had installed a surveillance camera. This caught the thief in the act and helped identify him for arrest.
After viewing the surveillance footage, the victim said: "I was shocked to see this happening to me. He [the thief] so casually stepped off the porch like he lived here, looking around and chilling."
Year-Round Package Risk
Of course, package theft isn't just a seasonal risk. Last summer, an anonymous Boston-area shopper told NBC 10 Boston that an Amazon delivery driver dropped off a pair of expensive sneakers — before looking around and taking them back. Amazon notified the buyer that the sneakers had in fact been left with him.
It wasn't until the victim reviewed his front porch surveillance camera footage that he realized what had happened. The victim told NBC that it was "unsettling how the person trusted to deliver his packages was the one who appears to have taken one."
Holiday Theft Risks
According to the Somerville, Massachusetts, Police Department, while package thefts spike around the holidays, thieves often target homes for outright burglary as well this time of year.
The Somerville police offer tips on how to combat theft:
Direct that your package is sent to a location where someone will be present to receive it

If you can, have the package delivered right to your place of work

Start a neighborhood delivery watch — everyone can agree to mutually secure each other's packages

Closely track your deliveries online

Offer precise delivery instructions, such as when you or someone else will be present to receive the package
For an extra layer of security, you can also have a home video surveillance system installed on your front porch (and within your home) to monitor any illicit activity. Cameras can help apprehend thieves — and if would-be thieves know they will be filmed in the act, they will probably think twice about trying to rob you.
NEXT STEPS:
https://www.americanalarm.com/wp-content/uploads/2022/12/American-Alarm_logo_1Xr.png
0
0
American Alarm Blogging Team
https://www.americanalarm.com/wp-content/uploads/2022/12/American-Alarm_logo_1Xr.png
American Alarm Blogging Team
2019-12-11 16:14:14
2019-12-11 16:14:14
Holiday Safety Includes Protecting Gifts