How to Improve Security in Your Business' Parking Lot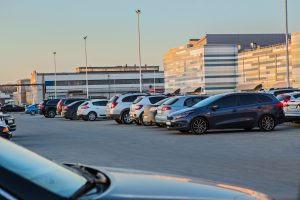 Between drivers admitting to being distracted while navigating parking lots and an 11% increase in car theft nationally, parking lot security at your business should be top of mind. Help your employees and customers feel safe and comfortable coming and going from your business by taking measures to reduce the risk of accidents and the threat of criminal activity on your property. Here are some simple tips for improving your business' parking lot security.
Establish and maintain walkways
According to the National Safety Council, fall-related injuries make up 33% of non-fatal injuries to individuals in the US each year. Ensuring your employees and customers have a clear and well-maintained path from the parking lot to the entrance of your business will help reduce the potential for falls on your premises. 
Marked walkways through your business' parking lot make it easier for drivers to predict pedestrian activity, reducing the risk of pedestrian crashes. 
Improve lighting
Lighting your parking lot offers several safety benefits for your customers and employees. 
An illuminated pathway makes it easier for pedestrians to see where they're walking, reducing the risk of slip and fall accidents. Lighting also helps make pedestrians more visible to drivers and lowers the potential for collisions.
Lighting your parking lot will also discourage criminal activity by making it harder for thieves and vandals to hide in the shadows. 
Consider a fence
Fencing your business' parking lot is a simple way to protect the vehicles on your premises from theft or vandalism. If your company has a central location with limited parking, a fence will also stop unauthorized vehicles from clogging up the parking spaces your employees count on.  
A fenced parking lot also restricts access to your building, protecting against break-ins and property damage. Your employees will inevitably feel safer walking to and from their vehicles, especially in the dark. 
Hire a security guard
Hiring a security guard to patrol your business' parking lot will deter criminal activity and help your employees feel safer coming in and out of the office, especially after dark. 
If your business is located in a high-crime area, have the security guard escort employees to and from their vehicles to offer additional peace of mind.
Having someone monitor your lot offers many conveniences in addition to safety. Say an employee leaves their headlights on; the security guard will likely notice and inform someone in the office before their car battery dies. A guard will also catch any irregular activity around the premises, such as loitering, and can take action to prevent security issues before they arise.  
Use video surveillance
Video surveillance can be a powerful way to deter criminal activity around your business while helping staff and customers feel safe on your premises. If any accidents, break-ins, or other security issues occur, you can use the surveillance footage to investigate the incident. 
Footage can be used to help identify criminals in the instance of theft or vandalism, and it could protect your business against false injury claims.  
The safety and security of your employees and customers should always be top of mind. These simple parking lot security tips are sure to improve their sense of safety when on your premises.
NEXT STEPS:
Stay up to date on security topics such as home alarm systems, business security systems, video surveillance systems, IP video networks, remote video monitoring, fire alarm systems, and fire alarm inspections.
https://www.americanalarm.com/wp-content/uploads/2022/03/Commercial-parking-lot.jpg
1414
2121
zac
https://www.americanalarm.com/wp-content/uploads/2022/12/American-Alarm_logo_1Xr.png
zac
2022-03-31 13:39:08
2022-03-31 13:39:08
How to Improve Security in Your Business' Parking Lot