Preventing False Injury Claims with Video Monitoring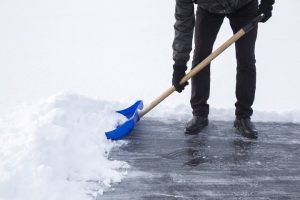 Northeast winters bring snow and ice and with it many hazards. According to Massachusetts law, residential and commercial property owners may be held liable for injuries related to snow and ice on their property. Fortunately, there are simple steps you can take to lower the likelihood of winter-related accidents. To prevent false injury claims, couple these actions with a video surveillance system so you can verify that the appropriate steps were taken. 
Salt outdoor walkways
Slippery walkways are a liability when it comes to injuries. Enlist an employee or a professional service to regularly salt the main outdoor walkways on your premises. This will greatly reduce the probability of a customer or employee losing their balance and falling down.
Use proper signage
Folks in a hurry might forget to be mindful of slippery walkways and find themselves taking a sudden spill. Prevent falls by creating eye-catching signs and placing them near any potential slipping hazards within your property. Sometimes a visual reminder is all someone needs to slow down and move cautiously. Placing signs to mark slipping hazards may help reduce your responsibility in the event of an incident. 
Monitor snow and ice removal
Depending on the nature of your business or property ownership status, you may be legally responsible for removing snow from the premises to ensure there is a means of egress. Hire a commercial snow removal service to clear the driveways and sidewalks on your property to ensure individuals can move in and out of the property or building safely. 
Because this is a legal obligation, it's important to have proof that the job was done. A video surveillance system is an effective way to monitor the snow removal status even if you can't be on-site when it takes place.  
Use security cameras to cover your bases
Taking precautions to eliminate hazards is a powerful way to thwart fraudulent injury claims, but in the event of an incident you need to be able to prove that you took the necessary steps. 
An video surveillance system enables you to monitor your workplace and keep track of all activity on-site. With this system in place you can ensure that the individual responsible for salting walkways, removing snow, and placing signage completed their duties as required. 
Should an incident take place, a video surveillance system will provide evidence that you've taken precautions to warn individuals about potential hazards and protect you from false injury claims.
NEXT STEPS:
Stay up to date on security topics such as home alarm systems, business security systems, video surveillance systems, IP video networks, remote video monitoring, fire alarm systems, and fire alarm inspections.
https://www.americanalarm.com/wp-content/uploads/2021/12/Snow-removal.jpg
480
720
zac
https://www.americanalarm.com/wp-content/uploads/2022/12/American-Alarm_logo_1Xr.png
zac
2021-12-29 11:25:20
2021-12-29 11:25:20
Preventing False Injury Claims with Video Monitoring