How to Avoid Pet-Related Fires in Your Home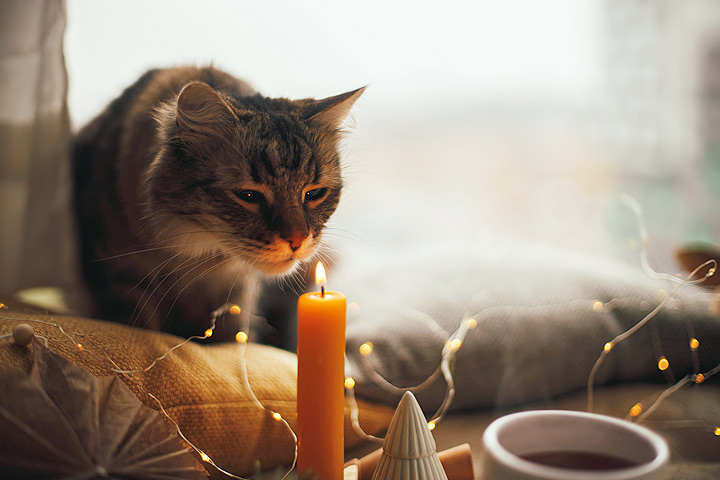 Pets are awfully cute and cuddly. They're fun to play with and make the perfect subject for social media posts. Your sweet fur babies can also pose a threat to your home. Many fires are started by cooking, electrical issues, and even arson. According to Preventative Vet, the National Fire Protection Association says that pets are responsible for approximately 1,000 fires every year in the United States. Here's what you need to know to prevent them as a pet owner.

Flammable Objects
Candles are an obvious flammable object that we might not consider when it comes to pets. Cats are especially likely to climb onto spaces that hold candles, such as coffee tables, counters, and even fireplace mantels. Height is no barrier when it comes to cats jumping up and knocking a candle over.
To avoid this becoming an issue, opt for battery-powered flameless candles. Enjoy the beauty of candles without the worry of a house fire.
Another flammable object that can become a danger is a space heater. A warm space heater can be a magnet for pets. They may curl up in front of it to keep cozy, but an accidental bump from a pet can knock the heater over, causing a fire, especially if it is placed on carpet or near curtains or other flammable items. Your pet could even be injured by the space heater. Never leave pets unattended with a space heater running.
Fireplace
A fireplace or wood stove should not be left unattended while active when pets are around. When possible, keep pets contained in another room or outside of the space by using pet-safe screens. It's easy to think pets wouldn't get near such a large fire, but pet owners know that pets can unexpectedly get rowdy. If they start playing with a toy and it ends up in the active fireplace, this can be a recipe for disaster.
Kitchen Hazards
The kitchen contains a plethora of hazards when it comes to pets. Not only can pets harm themselves, but they can start fires as well. If you're cooking, you want to keep pets away from the area. As mentioned, cats will climb and jump on anything. They don't understand that a stove could be hot when they jump on top of it.
Imagine the stove holding a pot of hot oil when your cat jumps up. Injury and fire can happen in mere seconds. Even when the stove is off, the kitchen can still pose a threat. If your cat jumps up and hits a burner, it can heat up fast without you knowing until it's too late. To avoid this, secure knobs with covers as you would when babyproofing your home.
Electrical Cords
Loose wires can make the perfect playthings for cats and dogs. This is especially true for kittens and puppies who are teething and, like human babies, want something to chew on. Chewing on electrical wires can result in fire which can harm your pet, belongings, and home. Secure loose wires where they don't pose a temptation to your pets.
Pet-proofing your home will not only greatly reduce the chances of them causing a fire and damage to your home but protect your pet as well. Preventative Pet says that at least 40,000 pets die each year in house fires. Don't let yours be one of them. Take precautions to protect your household.
Having a fire alarm system is key in the event of a fire. Test your smoke detectors every six months to ensure they're in good working order so you are alerted if a fire ever breaks out.
NEXT STEPS:
https://www.americanalarm.com/wp-content/uploads/2023/09/pet_fire_safety.jpg
480
720
alarmadmin
https://www.americanalarm.com/wp-content/uploads/2022/12/American-Alarm_logo_1Xr.png
alarmadmin
2023-10-05 08:32:13
2023-09-28 12:08:01
How to Avoid Pet-Related Fires in Your Home