Have A Happy & Safe Halloween
Halloween is upon us. A magical time for ghosts and goblins – or princes and princesses – to scamper through their neighborhoods in search of sweets and other treats.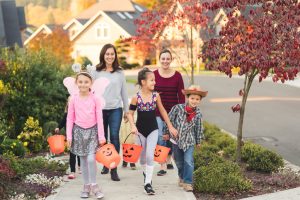 At American Alarm, we love the spookiest day of the year.  While we make last minute costume decisions (Thanos or Black Widow?), courtesy of the Massachusetts State Fire Marshall and the Centers for Disease Control and Prevention (CDC), we want to offer some helpful tips to ensure that you and your children have a spooktacular All Hallow's Eve:
Be sure all parts of costumes are labeled flame retardant
If a child is wearing a mask instead of make-up, make sure the eye holes are large enough to see through clearly
Fireworks are dangerous and illegal in Massachusetts. The ban includes firecrackers, cherry bombs and party poppers
Use battery operated candles in jack-o-lanterns
Swords, knives, and other costume accessories should be short, soft, and flexible
Trick-or-treat in groups or with a trusted adult
Fasten reflective tape to costumes and bags to help drivers see your little Iron Man and Elsa
Examine all treats for choking hazards and tampering
Hold a flashlight (check batteries) while trick-or-treating to help you see and others see you
Teach children to put electronic devices down, keep heads up and walk, do not run across the street.
You should also remember that Halloween can be a great time for bad guys to break into your home. They could even dress up and blend right in with the rest of the trick or treaters.
So if you're out helping your children scare up some goodies and there's no one at your house:
Be sure your home is well lit inside and out. Motion sensor lights or spotlights can go a long way toward scaring off (pun intended) a would-be burglar

Lock all your doors windows (even if you're at home giving out the goodies)

If you're going with your children to score some chocolate, tell a neighbor or two.
Activate your home security system, even if you are home. Make sure to let your alarm company know if you're not going to be around.
If you see anything suspicious, call the police
Have a hauntingly good Halloween and stay safe.
Next Steps
https://www.americanalarm.com/wp-content/uploads/2022/12/American-Alarm_logo_1Xr.png
0
0
American Alarm Blogging Team
https://www.americanalarm.com/wp-content/uploads/2022/12/American-Alarm_logo_1Xr.png
American Alarm Blogging Team
2019-10-30 16:28:56
2019-10-30 16:28:56
Have A Happy & Safe Halloween