Five Impactful Age-in-Place Modifications You Can Make to Your Elderly Relative's Home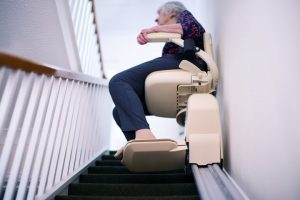 A 2018 AARP survey found that 76% of adults over 50 would prefer to remain in their homes as they age—to "age in place." An additional survey in 2020 revealed that 79% of respondents anticipate needing to make modifications to their homes to make aging in place possible.
Between the familiarity and sentimental value of their long-term home and the connections they've established within their community, it's easy to understand why your elderly family members would be inclined to stay put. For those caring for them, the prospect of a loved one living alone as they age could be alarming.
While 50 is far from elderly, it's always wise to plan ahead. Here are five age-in-place modifications that will help your loved one stay safe and comfortable in their home as they grow older.
Safety-proof the bathroom
In Massachusetts, 25.9% of seniors over 65 experienced a fall in 2018. With an abundance of slippery surfaces, bathrooms are a common place for falls to occur.
To help prevent falls, add grab bars within your loved one's shower and next to their toilet. Since stepping over the side of the tub may become challenging as folks age, consider swapping the tub for a shower stall or a step-through bathtub. A foldable shower seat and anti-slip mats on the shower floor could also prevent falls while bathing.
A comfort height toilet is another impactful bathroom modification. It looks like a regular toilet, but the higher seat height reduces the amount of bending required, making it easier and more comfortable to sit down.
Install a stair lift
A study by the American Journal of Emergency Medicine revealed that individuals over 85 have the highest rate of stair-related injuries in the United States.
A stair lift is a fantastic way to reduce risk and give you and your elderly relative peace of mind. A stair lift is a motorized seat that travels along tracks bolted to the side of a staircase. Stair lifts connect to an outlet but operate on batteries, meaning they'll work even during a power outage.
Reorganize the kitchen for ease
As your loved one ages, you may begin to notice that it's harder for them to lift and carry items around the kitchen the way they used to. This can become hazardous with bubbling liquids, open flames, and heavy pots involved.
Work with your family member to analyze their kitchen setup and reorganize it as needed. For instance, if the microwave is up too high, lifting heavy items in and out could be difficult. The same goes for other commonly-used items like dishware, cookware, and appliances. Is there a way to reposition these items so a smaller range of motion is required?
Assess the flooring
Analyze the floors in your loved one's home and look for potential tripping and slipping hazards. A shoe, walker, or cane could easily become caught on the edge of an area rug or doormat if it doesn't lay completely flat. Tape the edges down or remove the rugs to prevent tripping.
Set up a medical alert system
A Medical Alert System helps keep your loved one safe by ensuring the help they need is available at the push of a button. American Alarm's Medical Alert Systems offer 24/7 monitoring and automatic fall detection in case your family member fails to send the alert manually. You can even program the system to send you notifications if abnormal activity occurs.
The prospect of your elderly parent living alone as they age may give you pause, but there are many ways you can modify their home to accommodate their evolving needs as they age in place.
Next Steps:
https://www.americanalarm.com/wp-content/uploads/2022/02/Senior-Woman-Sitting-On-Stair-Lift-At-Home.jpg
480
720
zac
https://www.americanalarm.com/wp-content/uploads/2022/12/American-Alarm_logo_1Xr.png
zac
2022-02-24 15:26:44
2022-02-24 15:26:44
Five Impactful Age-in-Place Modifications You Can Make to Your Elderly Relative's Home