5 Warning Signs You Need to Upgrade Your Business Security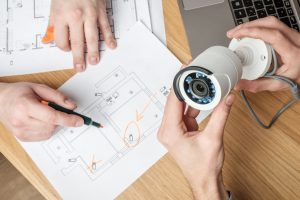 As a New England business owner, you may not think much about your various security and surveillance systems — until you need them. That means your existing solutions may have become outdated, suffer from gaps, or are just plainly obsolete and not fully functional.
It may be too late to address these security shortcomings by the time you realize them. This is most relevant in areas where the growth of new technology, such as the Internet of Things, is creating even more risk than before.
Is Your Security Ready?
With the arrival of COVID-19 and new safety and health regulations, businesses face a whole new set of challenges to protect their employees, customers and partners. As the Boston Herald notes, a failure in protection might lead to a crippling lawsuit that could financially ruin a small firm.
Members of your company, or your partners, may be working remotely in unfamiliar environments or conditions, as mentioned in a recent Boston Business Journal article. Your security procedures and solutions may be vulnerable, given they must function across geographically distributed locations, or at hours and in circumstances they weren't designed for.
Protection Assessment and Evaluation
Given the current situation, here are five indicators to consider if you're in doubt about how current and robust your current business security system is. You might want to consider an upgrade or revamp if:
You can't view/record activities in key areas for ongoing compliance and safety. This particularly applies to customer-facing businesses, such as restaurants or retail stores. Given the new rules around hygiene, you must be able to demonstrate you follow social distancing and similar guidelines.

Your business has changed or

expanded substantially

since the last surveillance/alarm installation. Are you in the same location? Did you expand your existing one? Are new areas sufficiently protected? You have to regularly re-evaluate your existing infrastructure to match your growth.

You can't respond in real-time to disruptive or risky situations. Thieves or vandals can strike at your business at any time. Plus, given the various restrictions caused by COVID-19, members of the public have lately demonstrated disruptive behavior, as mentioned in

this blog post

. A high-resolution camera system feeding into a 24/7 control system can enable the fastest, safest responses.

You lack communications and/or power redundancy. Thieves are shrewder than ever. They can take out your landline to prevent a burglar alarm reaching first responders.

As we've previously noted

, you should have backup communications in place, such as cellular connectivity. Likewise, if the power in your facility goes out, back up battery power will ensure the alarms stay live until electricity is restored.

It's been years since you upgraded your surveillance/security systems. High tech criminals never rest. They create new viruses and hacking schemes. You can help defeat that by making sure your network has all the latest software patches and security protocols in place. Can your cameras clearly record all activity on your premises? High resolution cameras improve regularly and enable ever better visibility into your facilities or shop floors. Cloud-based solutions can provide further security by allowing securely encrypted off-site video storage and streaming 24/7.
If any or all of these situations applies to you, it's worth considering a security upgrade. New surveillance and sensing systems can protect you and your business in this ever changing and challenging commercial environment.
NEXT STEPS:
Stay up to date on security topics such as home alarm systems, business security systems, video surveillance systems, IP video networks, remote video monitoring, fire alarm systems, and fire alarm inspection.
https://www.americanalarm.com/wp-content/uploads/2020/07/iStock-1157139112.jpg
836
1254
zac
https://www.americanalarm.com/wp-content/uploads/2022/12/American-Alarm_logo_1Xr.png
zac
2020-07-22 10:03:49
2020-10-15 12:02:38
5 Warning Signs You Need to Upgrade Your Business Security