Security You Can Trust
---
News
Malfy Alarm of Cape Cod Joins American Alarm
January 17, 2023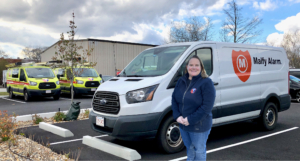 Arlington, MA — American Alarm and Communications today announced it has completed the acquisition of Malfy Alarm of Falmouth, MA, a growing provider of life-safety and security systems serving some 700 customers, both residential and commercial, on Cape Cod.
Malfy Alarm founders Sarah and Philip Malfy will remain with American Alarm full-time to continue to serve and grow the company's combined customer base across Cape Cod. "This is a great addition to our team," said Louis Sampson, chief financial officer and co-owner of American Alarm. "We have been serving customers on the cape for decades, now with this merger we expand our local presence there with a satellite office and an experienced team."
Alarm system monitoring for Malfy Alarm customers will be handled by American Alarm's company-owned and operated UL listed and Five-Diamond Certified 24-7 Security Monitoring Center located in Arlington, Massachusetts.
"We started Malfy Alarm in 2011, working out of our house, because we are native Cape Codders who love this area and we wanted to create a sustainable means for our family to remain here, year-round," Sarah Malfy said. "Malfy Alarm grew steadily, even faster than we expected. Now with so many customers relying on us, the time has come to join a bigger team, with more resources to serve customers. American Alarm was the right fit."
As part of the merger plan, American Alarm will maintain a satellite office in Pocasset on Cape Cod to facilitate rapid customer service on the cape.
"Cape Cod is a special part of New England and we remain committed to providing our customers there with the highest levels of security and life-safety systems," said Wells Sampson, president and co-owner of American Alarm. "As we grow strategically in New England, we are essentially a collection of local family businesses uniting together to protect families and businesses in the communities we serve."
About American Alarm and Communications
American Alarm was established in 1971 by three engineers who met at MIT. It remains a local, family-owned business now led by the second generation of the Sampson family. American Alarm is a comprehensive security systems integration and monitoring firm providing intrusion, fire, access control, video surveillance, environmental hazard and other related systems and services. In addition to residential services, American Alarm has extensive experience providing security systems and services for financial institutions, cannabis companies, medical facilities, multi-building educational campuses and retail operations.
The American Alarm group of companies employs more than 300 people, now based at eight locations in New England: Arlington, Auburn, Pocasset (Bourne), Randolph and Weymouth, MA, Wallingford, CT, Warwick, RI, and Manchester, NH. American Alarm protects all classes of property, from single-family homes to businesses large and small, to major public and historic venues. The company owns and operates a 24-hour UL listed Five-Diamond Certified central station in Arlington that is solely dedicated to monitoring its customers' security and life-safety systems.